WALTER ALSTON IS DEAD AT 72; DODGERS' MANAGER 23 YEARS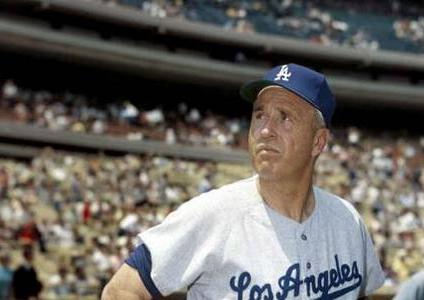 Walt Alston, who guided the Dodgers of Brooklyn and then Los Angeles to seven National League pennants and four World Series championships during his 23 years as their manager, died yesterday in Oxford, Ohio, after a long illness. He was 72 years old.
When Mr. Alston was named by Walter O'Malley to manage the Brooklyn Dodgers on Nov. 24, 1953, the headlines on one New York newspaper the next day read: ''Alston (Who's He?) New Dodger Manager.'' And a sportswriter explained: ''The Dodgers do not need a manager, and that is why they got Alston.''
But the quiet, plodding former farmer and schoolteacher from Darrtown, Ohio, went on to become one of the most respected managers. Signing only one-year contracts, he had a tenure with the team that was exceeded only by Connie Mack's 50 years with the Philadelphia Athletics and John McGraw's 31 with the New York Giants. In 1983 he was elected to the Baseball Hall of Fame.
Under him, the Dodgers won the Series in 1955, 1959, 1963 and 1965. The team he inherited in 1954 was talented and experienced, but had failed to win the Series in 1952 and 1953 against the Yankees under Charlie Dressen. Mr. Alston's Montreal team had won the Little World Series in 1953 from the Kansas City Blues, a Yankee farm team, and that was considered good- enough credentials for the Dodger front office. Inherited a Good Club
On returning from a hunting trip near Darrtown, he received a call to report to New York, a city he had visited only once. He had seen the Dodgers play only once, but had handled 25 of their players during a 13-year managerial apprenticeship in the minors.
''I inherited a real good ball club with Reese and Campanella and Hodges, and won some pennants with them, and ever since then, the organization has been supplying some good ballplayers,'' he said after more than 20 years with the team, which moved to Los Angeles in 1958.
The quality and style of his teams changed over the years. He had power- hitting teams early with Roy Campanella, Gil Hodges, Jackie Robinson, Duke Snider and Carl Furillo. And he had teams that relied on strong pitching from Sandy Koufax and Don Drysdale, plus the speed of Maury Wills, Willie Davis, Tommy Davis and Jim Gilliam.
Not all the years were prosperous. The Dodgers finished seventh in 1958, sixth in 1964, eighth in 1967 and seventh in 1968. But Mr. Alston survived the lean years with his quiet, no-nonsense approach.
''He is non-irritating,'' said Mr. O'Malley when asked about his manager's longevity in the job. ''Do you realize how important it is to have a manager who doesn't irritate you?''
Every year, after spending the season attempting to duck out of the spotlights that probe a major-league manager, he would return in the fall to Darrtown and his home on the corner of Apple and Cherry Streets. He would spend the time hunting, skeet shooting, woodworking, playing pool and riding his two motorcycles, until it was time to go to Vero Beach, Fla., again for spring training and the beginning of another baseball season. Known as Smokey
Walter Emmons Alston, known as Smokey because of his fastball when he pitched in high school, was born in Venice, Ohio, on Dec. 1, 1911, the son of a farmer who had played semipro ball. He was graduated from Darrtown High School in 1929 and from Miami (Ohio) University in 1935. He majored in industrial arts and physical education, and played on the baseball and basketball teams. Meeting college costs was difficult.
''I put myself through college playing pool,'' he once said.
He signed with the St. Louis Cardinal organization after his graduation and bounced through the minors as a first baseman for 12 years, doubling as a manager from 1940 until he gave up playing in 1947 to concentrate on managing. He played only one game in the majors, striking out in his only time at bat with the Cardinals. A shoulder injury suffered in a fight with the catcher Sal Yvars in 1947 hastened the end of his playing days.
The 6-foot-2-inch, 200-pound manager also offered to take on a few Dodgers in his early days with the club when he had disciplinary problems, but he never had a taker. He won the respect of his players, even though his major- league experience consisted of one time at bat.
Mr. Alston's quiet managerial style was generally acclaimed by people in baseball, but he also had a few critics.
''He tries to avoid confrontations,'' said Bobby Valentine, an infielder with Los Angeles in the early 1970's and now a coach with the Mets. ''Not because it is a way of smoothing things out, but because he doesn't know what to do in a crisis. He just hopes the crises will go away.''
''I'm not afraid to learn from my coaches,'' was Mr. Alston's reply to a charge that he delegated too much authority.
In 1930 he married Lela Vaughn Alexander, a childhood sweetheart, and they had a daughter, Doris.