Felix Kirk Zollicoffer was born in Maury, Tennessee, on May 19, 1812. He died near Mill Springs, Kentucky, on January 19, 1862.
Zollicoffer's grandfather George was a captain in the Revolutionary army. The family came to this country from Switzerland, and is of ancestry that was ennobled by Rodolphus II in 1528. As a young man, Zollicoffer worked on his family's plantation, then attended Jackson College in Columbia, Tennessee, for one year. Becoming interested in the newspaper business, Zollicoffer joined a newspaper in Paris, Tennessee, at the age of sixteen. Within two years, he was working as a journeyman printer in Knoxville, later editing the Columbia "Observer" and helping edit the "Southern Agriculturist," as well as the Huntsville, Alabama "Mercury." Zollicoffer was named state printer in 1835.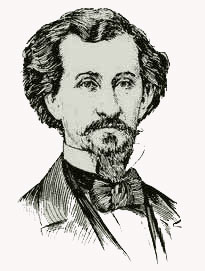 Zollicoffer then joined the Tennessee Volunteers as a lieutenant during the Second Seminole War.
In 1842, he was associate editor of the Nashville "Republican Banner," a major Whig paper. After serving as state adjutant general and comptroller from 1846 to 1849 and as state senator from 1849 to 1852, he helped the successful gubernatorial campaign of William B. Campbell.
In 1852, he supported the Whig campaign of presidential candidate Gen. Winfield Scott, as well as gaining election to the U.S. House of Representatives, where he served from three terms (1853-59) and gained a reputation as an able debater. During the campaign, Zollicoffer fought in a duel with the editor of the Nashville Union.
As a supporter of states rights, Zollicoffer tried to negotiate for peace when sectional tensions arose. He retired from public life in 1859, supported John Bell's campaign for the presidency, and attended the Washington Peace Conference in 1861. Once Tennessee seceded, however, Zollicoffer became a brigadier general in the Tennessee state forces following the fall of Fort Sumter, transferred into Confederate service, with the same rank, on July 9, 1861, and given command of the District of East Tennessee, Department Number 2, on August 1, with the assignment to "preserve peace, protect the railroad, and repel invasion." This was a difficult task since eastern Tennessee was generally not a slaveholding area and was unsympathetic to the Confederate cause.
Initially ordered to East Tennessee, he moved into southeastern Kentucky in late 1861 before being superseded by General G.B. Crittenden on December 8. Zollicoffer was then given command of the 1st Brigade of the district. His rash move across the Cumberland River forced the rebels to give battle, at a disadvantage, at Mill Springs on January 18, 1862. Encamped with the river behind it, Zollicoffer's small group of troops was poorly positioned when Maj. Gen. George B. Crittenden arrived. Union forces advanced, and the Confederate forces attacked the Union troops at Mill Springs. On January 19, 1862, Zollicoffer, having ordered an advance, rode forward with several of his staff officers to inspect the enemy's position. Extremely near-sighted, Zollicoffer passed by mistake beyond their lines. He endeavored to retrace his route, and was soon in front of the 4th Kentucky regiment, commanded by Colonel Speed S. Fry, with whom he exchanged salutes, and rode off undetected (as he wore an oil-cloth overcoat). But one of his staff fired a pistol toward the National line, which was at once answered by a volley that killed General Zollicoffer and two other officers. Another account represents that Zollicoffer, while studying the field, came across another officer on the same mission. He told that officer not to fire on his own men. But the other man was Colonel Speed S. Fry of the 4th Kentucky, a Union regiment. After riding away and being fired upon, Fry, realizing his mistake, turned and shot the Confederate. Also fired upon by some other Federals, Zollicoffer fell dead.
His body was sent back to Nashville and buried in the city cemetery.