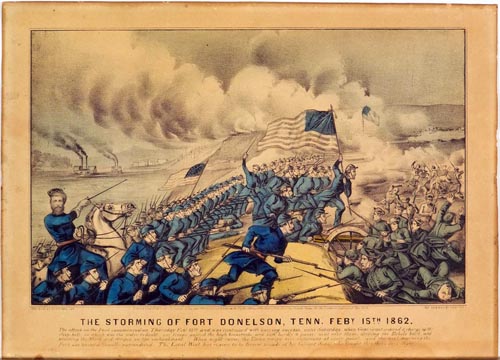 The Republican
Saturday, March 1, 1862 (as quoted from the Chicago Tribune)
   Lieut. Colonel Erwin, who fell while he was gallantly leading a charge at Fort Donelson, was born at Albany, New York, in the year 1821.  A short time before the breaking out of the Mexican War, he removed to Illinois and located at Shabbona's Grove.  He voluteered in Co. K, 1st Regiment Illinois Volunteers, Col. Hardin, and was elected Lieutenant of the company, and handled the company with distinction in the battle of Buena Vista.  At the close of the war he returned, settled at Ottawa, and was soon after married to Miss Althea L. Goodell, only sister of R.E. Goodell, Esq., of Joliet.  In the fall of 1858, he removed to Joliet, Ill., and entered the employment of the St. Louis, Alton & Chicago Railroad Co., in which he continued until the call for volutneers to suppress the Southern rebellion, when he raised a company at Joliet for the war, and was elected its Captain.
    Soon after, on the organization of the 20th Regiment, Illinois Volunteers, he was elected to the lieut. Colonelcy of the Regiment, and in July last was ordered to Missouri.  He bore a distinct part in the battle of Fredericsktown, fought on the 21st of October, and was engaged in many other skirmishes in this state.  About the 4th of February his regiment was ordered to Tennessee and formed a part of General Grant's column, which was pressing over bad roads to Fort Henry when it surrendered to Com. Foote, in command of the gunboat fleet.  On the 11th , the forces crossed to an infested Fort Donelson.  On Thursday morning, the 13th of February, the battle commenced, and was pressed daily and almost nightly until Saturday at early dawn, when the hardest part of the contest was waged.  By 10 o'clock AM, the battlee was almost won.
   A few minutes before 10 o'clcok, Col. Erwin, on horseback, whilst leading a charge, and being even more solicitous for his men than his own safety, with the words, "Lay low, boys, I see a large body of the enemy approaching," was struck by a six pound cannon ball in the breast, fell from his horse,and in a few moments expired.
    Thus, nobly died William Erwin, as brave a soldier and true a patriot as ever pressed the earth.  Besides his wife, he leaves two tender children to mourn his untlimely death.
    Col. Erwin's remains have been brought home and buried at the Buffalo rock, three and a half miles below Ottawa, where rest the ashes of other of Col. and Mrs. Erwin's friends - a romantic spot on the banks of our own Illinois - fit resting place for the hero.