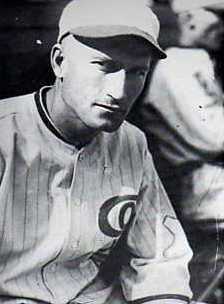 Until his fateful involvement in the plot to fix a World Series, Fred McMullin was known as the Chicago White Sox's "lucky man."1 His addition to the starting lineup coincided with late-season surges to win the American League pennant in 1917 and 1919.
Today, he is mostly thought of as the "forgotten man" -- in a scandal often called baseball's darkest hour. McMullin was the Eighth Man Out, the most obscure of the White Sox players who agreed to throw the 1919 World Series to the Cincinnati Reds. He was banned from organized baseball by Commissioner Kenesaw Mountain Landis and blackballed in semipro games near his home in Los Angeles.2
Fred McMullin's story is a series of contrasts. A man once commended for chasing gamblers off a field in Boston was suspended permanently because he accepted a $5,000 bribe to help his team lose. He was indicted by a Chicago grand jury in a story that made headlines across the nation, yet he spent the final decade of his life as a respected lawman in California.
Frederick Drury McMullin was born October 13, 1891, in Scammon, Kansas. He was the first of nine children born to Robert D. McMullin and Minnie Rea Davis.
McMullin was married. on August 5, 1915, his bride, 23-year-old Delia A. Barnabe, were married on by a justice of the peace at the Orange County Courthouse in Santa Ana, Calif
When the 1919 season began Mac found himself opening the season on the bench as Swede Risberg beat him out for a starting spot in the infield. After a solid year in 1918 and a contributing role in the 1917 championship stretch, McMullin's lack of playing time drew the attention of The Sporting News: "Can you beat it the way managers are letting this fellow hang around the Sox bench when one of them could grab him off -- a player good enough to help win the league and flag and clinch a world's pennant, and at the height of his game in the big leagues!"77
But the White Sox, on the backs of pitchers Eddie Cicotte and Lefty Williams, soared to a 24-7 start to take a five-game lead on Cleveland. McMullin received scant playing time in the first three months -- his longest stretch was in replacement of an injured Eddie Collins at second base for a few games in late May. When the Sox slumped in June, falling out of the American League lead for the first time on June 23, new manager Kid Gleason -- a longtime White Sox coach who had taken over for Pants Rowland -- decided to shake up his lineup.
For the second time in three seasons, McMullin was brought in to provide a spark. Just like in 1917, Buck Weaver moved back to shortstop and Mac took over at third base. "This arrangement, the same that was used in humbling the New York Giants ... proved a lucky one in the first game after it was made. The Sox defeated the Browns, and McMullin made two hits. Whether it makes a turning point in the club's fortunes remains to be seen," reported The Sporting News.78
It did. Just like in 1917, the White Sox immediately got hot. After leaving St. Louis, Chicago took three of four from Cleveland and came home to win four of five against Detroit to storm back atop the standings. McMullin's best effort was a 4-for-5, two-triple performance on July 13, equaling his career high for hits.79
Despite entering July with less than 30 at-bats, Mac had boosted his average to .333 -- seventh in the league, if he had qualified for the batting title -- after earning a starting spot. Teammate Joe Jackson was pacing the AL at .352. In the opener of a crucial series against the second-place Yankees on July 20, Jackson hit a game-ending home run before 30,000 fans at Comiskey Park to put the Sox ahead by a season-high 6 games.80
By the end of August, Chicago's lead was up to 8 games, and the pennant was "a foregone conclusion." The Atlanta Constitution's Dick Jemison reported then that the White Sox were a 7 to 10 betting favorite over the National League champion Cincinnati Reds. The odds dropped to 5 to 6 by late September, and late betting before the Series began made the Reds a 7 to 10 favorite in some places. The reason would soon become clear.81
Jackson clinched the Sox's pennant for good on September 24 with another game-ending hit, this one a ninth-inning single to score Nemo Leibold in a 6-5 victory over St. Louis. For the final week of the season, McMullin was assigned to travel to Cincinnati to scout the Reds in their last series against the Cubs.82
Whether he followed manager Kid Gleason's orders and returned with accurate scouting reports remains up for debate, nearly a century later.83 What is known is that sometime that fall, McMullin found himself involved in what historian Harold Seymour called "baseball's darkest hour": the fixing of the 1919 World Series.84
Most sources, possibly following the lead of Eliot Asinof's acclaimed book about the scandal, Eight Men Out, seem to agree that McMullin's involvement in the plot happened by chance.85 He overheard a conversation with good friend Swede Risberg, in a locker room or a bathroom or a hotel room, and asked to share in the profits. Some have claimed that McMullin, along with first baseman Chick Gandil, was one of the instigators of the fix.86 (In fact, Eddie Cicotte was among them -- the White Sox pitcher later testified that "the idea of the fix had originated in a conversation with Gandil and McMullin.")87 The truth might be somewhere in between. He certainly was present for most of the meetings before the Series discussing the fix, he roomed with pitcher Lefty Williams, a co-conspirator, at the Hotel Sinton in Cincinnati, and he was rarely seen without Swede Risberg, his fellow Californian, by his side throughout the Series.88
What compelled McMullin to risk his career for a promised payoff of $20,000? Perhaps he was angry over his lack of playing time -- he had certainly played well enough to warrant a starting job in the major leagues, and the White Sox had never seemed to give him a fair chance at that. Or maybe he was frustrated at Comiskey's dismissal of his desire to be closer to Los Angeles, near his family. His preseason holdouts usually had been accompanied by demands for a trade. And while Comiskey's reputation as a penny-pinching magnate has lived on despite the fact that his payroll was near the top of the American League89, McMullin's salary of $2,750 was among the lowest on the team. A nearly 1,000-percent raise for a week's worth of work would go a long way.
Perhaps the answer is more basic: It looked like an easy score. Indeed, gambling had been a part of baseball since the sport became popular and rumors of fixed games, even in the World Series, had been rampant since the first one in 1903.90Money often changed hands from player to gambler and from player to player. Back in 1917, it was well known that the White Sox players had collected a pool of $45 apiece to pay off the Detroit Tigers -- ostensibly as a "reward" for beating the rival Boston Red Sox in a crucial series down the stretch, but more likely it was to "thank" them for laying down in those infamous Labor Day doubleheaders which Chicago had swept.91
McMullin certainly knew the story of Hal Chase, formerly a teammate of some of his White Sox pals and widely suspected to be the most corrupt player in baseball. Chase had been accused numerous times of taking bribes and had openly tried to entice other players to do the same. After one such incident in Cincinnati, Chase was suspended by Reds manager Christy Mathewson, who reported it to National League president John Heydler. Instead, Chase was acquitted. Mathewson, infuriated, ran him off the team. It made no difference to Chase; he was soon picked up by John McGraw's New York Giants, and continued fixing games without repercussions. Chase -- who, like Gandil, Risberg and McMullin, had California connections -- also became involved in the World Series fix, reportedly as a middleman for gamblers Bill Burns and Abe Attell (although his role remains unclear to this day), and he was later indicted during the grand jury proceedings in 1920.92
Whatever his motivation actually was, McMullin didn't receive many opportunities -- at least on the field -- to "earn" the $5,000 he reportedly received for agreeing to help throw the World Series. He singled in a pinch-hit appearance off Reds starter Dutch Ruether in the eighth inning of Game 1, and grounded out against Cincinnati's Slim Sallee to end Game 2. Both were White Sox losses. Chicago went on to lose the best-of-nine Series in eight games.
Despite his lack of playing time, Mac's name quickly surfaced behind the scenes as rumors swirled that the World Series was not on the level. It was a charge that McMullin vehemently denied, threatening to "punch anybody in the nose who dared suggest he was in on any wrongdoing."93 But St. Louis gambler Harry Redmon allegedly tipped off manager Kid Gleason to McMullin's involvement, and when White Sox owner Charles Comiskey sent a private detective, John Hunter, to California to investigate talk of a fix, McMullin was one of the players he tried to interview.94
For a few weeks, Comiskey withheld World Series bonuses -- the loser's share came out to $3,254.36 that year -- for the eight players rumored to be involved. But McMullin and two other players complained to American League president Ban Johnson, and the checks were soon on their way.95
The Los Angeles Times reported that McMullin returned home "all upholstered like a davenport, ... [with] a sufficient sum to make him fair picking for the profiteers this winter." It was an ominous note.96
McMullin played winter ball for a team called "Killefer's All-Stars," headlined by Chicago Cubs catcher Bill Killefer and including stars such as Gavy Cravath, Sam Crawford and Jimmy Austin. Buck Weaver also headlined a team, "Weaver's All-Stars," whose main attraction was newly crowned home run king Babe Ruth.97
Talk of the fixed World Series died down as the 1920 season began. Comiskey, eager to put all the rumors to rest, offered Mac a substantial raise, from $2,750 to $3,600, for his fifth season in Chicago. McMullin quickly sent back his signed contract and reported for spring training in Waco, Texas, where he took over at third base while Weaver moved to shortstop. Risberg staged a holdout until early April.98
On the field, Mac's season was forgettable: he posted career lows in every statistical category, batting just .197 in 46 appearances. Off the field, there were persistent doubts about his activities -- he was said to be the "point man" for gamblers in games that the White Sox were supposed to have thrown, a rumor that was even brought up by American League president Ban Johnson.99
If any games were lost purposely by the White Sox that year, there is no first-hand documentation of which ones they were, and McMullin's involvement never has been clarified. In Eight Men Out, Eliot Asinof specifically lists an April 27 loss to Cleveland as being one of them. On May 9, the "careless Sox" dropped another suspicious game to the Indians. There were reports that Mac offered Buck Weaver $500 to help throw a mid-season game, which Weaver "angrily" declined.100
The pattern continued throughout the summer. Chicago stayed within range of the American League lead -- but was only in first place for eight days after May 7. Ban Johnson had claimed he heard that "the Sox would not dare win the pennant" because of their ties to gamblers.101
By September, the talk of corruption in baseball was too loud to ignore. A grand jury was convened in Cook County, Ill., and McMullin was implicated along with Buck Weaver, Chick Gandil, Swede Risberg, Joe Jackson, Eddie Cicotte, Lefty Williams and Happy Felsch for fixing the 1919 World Series.
During the season's final week, the rumors made Mac a target for opposing fans -- and ballplayers. Tris Speaker, the Cleveland manager, scuffled with McMullin before a game at League Park, snapping, "When you birds get back to Chicago and you feel like talking, you can do a lot of it before the grand jury, and your role won't be that of a witness, either!"102
McMullin was a major focus in one of the last stories before Cicotte made his confession to the grand jury -- on September 25, the Chicago Tribune wrote about a "mystery package ... in the shape of currency" that Mac had reportedly delivered to Buck Weaver's home during the Series. The Tribune claimed it was the first evidence that the players had been paid to throw games the previous fall, and that new witnesses would be called to verify it. Mac immediately denied the charges that he had paid Weaver, and few sources since have claimed that Weaver ever received money. The story is mostly forgotten now.103
After Cicotte's confession on September 28, owner Charles Comiskey immediately suspended McMullin and the other six players (Chick Gandil had held out in a contract dispute the entire season.) They were indicted a few weeks later for the vague charge of "conspiracy to commit an illegal act." McMullin and Buck Weaver, accompanied by attorney Thomas Nash, each paid a $10,000 bond on November 5. Joseph Kauffman, a local tailor, signed their bonds. McMullin went back home to California and took a job as a carpenter as he awaited trial.104
While in Los Angeles, McMullin worked for the Universal film studio and accepted an invitation to play ball in a winter league for that company's team (which included his brother-in-law, Charlie Barnabe.) Investigator Harry Neily, in a letter to AL president Ban Johnson, wrote that McMullin "enjoys a very good reputation out here and the natives were reluctant to believe that he was guilty of misconduct."105
Still, there was some grumbling about his presence until the local Manager's Association -- which controlled dozens of independent and semipro teams in Southern California -- passed a "vote of confidence" in January, allowing Mac to play. One week later, Philadelphia Phillies owner William F. Baker levied a $100 fine against outfielder Emil "Irish" Meusel for playing in a game with the disgraced "Black Sox" infielder, and other teams in organized ball threatened to do the same. It was understood, The Sporting News reported, that McMullin was persona non grata on the same field with "honest" ballplayers. So Mac resigned from the team on Jan. 12, reportedly "because of the embarrassment which it was causing some of the other players." He kept his job at the film studio, however.106
Even out of uniform, McMullin wasn't welcome around baseball. In May, he paid his way into Washington Park to visit with former White Sox teammates Byrd Lynn, Ted Jourdan and Joe Jenkins, who were playing for the Salt Lake club in the Pacific Coast League. But there developed "a situation so tense as to be almost painful," as manager Gavvy Cravath "turned his back" on McMullin and gave him "a stony stare" when he approached the bench. The Los Angeles Times opined that "Mac would save himself, the management and his friends ... a lot of embarrassment if he would absent himself, or at least keep in the background." McMullin called the treatment a "persecution."107
Meanwhile, in Chicago, the conspiracy trial was no closer to opening and indictments were returned for a second time in the spring of 1921. McMullin was "in hard luck" financially, according to a wire report, and could not afford to travel back to Illinois. He "sent word" that the state would have to pay his way for him to be able to stand trial, but his requests -- and, indeed, the charges against him -- were ignored by all parties. He declined to pay his new bail of $7,500, and a warrant was issued for his arrest. But the state of California refused to extradite him (it also had refused to extradite Hal Chase, on the grounds that a proper warrant for his arrest had not been issued.) Amazingly, the trial began in June -- without McMullin.108
Why was McMullin not put on trial with the other Seven Men Out, the only player to be dismissed from prosecution, even though his involvement in the fix was confirmed by almost everyone there? No one knows for sure. The trial itself was "in many ways a sham," according to author Gene Carney in his 2006 book, Burying the Black Sox: How Baseball's Cover-Up of the 1919 World Series Fix Almost Succeeded. The prosecution wasn't even sure what to charge them with; there was no law in Illinois against fixing or throwing games. Besides, baseball's first commissioner, Kenesaw Mountain Landis, had already suspended the eight Chicago teammates in November 1920 after the grand jury returned the first indictments against the players. Landis had made it known: "regardless of the verdict of juries," he still might not let them play in the majors again.109
The trial was beset by prosecutorial clumsiness -- star witness Bill Burns, one of the conspirators, was nowhere to be found until American League president Ban Johnson launched a small manhunt to "capture" him in hiding near the Mexican border -- and the confessions of three players disappeared during the middle of the proceedings. Before the jury began deliberation on August 2, Judge Hugo Friend stated that he would overturn guilty verdicts against Happy Felsch and Buck Weaver because so little evidence had been presented against them.110
So McMullin watched from afar as a jury failed to convict his seven former teammates, returning their verdict at 11:22 p.m. But whatever hope he had of returning to the White Sox was short-lived, as Landis famously banned them all the next day. McMullin's professional career was over.
Like many players of that era, McMullin kept quiet about the scandal in the decades afterward. How did he feel about losing his livelihood and being banished from the game at 29 years old? Only he knew. Unlike Buck Weaver, he never applied for reinstatement to the major leagues. Unlike Joe Jackson, he never proclaimed his innocence publicly. He did not give interviews, and if anyone asked him about it, what he revealed in those conversations is probably lost to history.111
The common perception is that McMullin disappeared after the trial. The phrases "dropped out of sight," "quietly vanished" and "mysterious" were all used to describe his life after baseball by writers who brought up the Black Sox. Eliot Asinof, in "Eight Men Out," did not even mention his whereabouts.112
But he never really went anywhere. His sister, Faye, moved in with Fred and Delia for a year before moving back home to Inglewood, where she later married the city's first elected mayor, Hugh Lawrence. Meanwhile, Fred continued to work as a carpenter around Los Angeles through 1922, when a second child, Ionia, was born. (A second daughter, also named Delia, was born in 1923.) Fred took various office jobs until the end of the decade. In 1928, he signed on as a traffic manager with the Thomas Haverty Co., where his brother Dale worked as a salesman. But they both lost their jobs a few years later when the Great Depression hit home. That fall, Fred registered as a Democrat for the first time after spending most of his adult life as a Republican. Presumably, he voted in favor of Franklin D. Roosevelt's New Deal in the presidential election.113
Both son William and daughter Ionia exhibited their father's skill on the diamond, playing for their high school teams in the mid-1930s. Fred attended their games regularly, and was also seen at various semipro games in Lincoln Heights and at Brookside Park in nearby Pasadena.114 Ionia later earned a degree from UCLA, as did her younger sister, Delia.
In 1941, Fred began a new career, in law enforcement, that would last the rest of his life. He took a job as a Los Angeles County deputy marshal, where his duties included acting as a bailiff for the Municipal Court, enforcing repossessions and serving arrest warrants and eviction notices -- incidents that sometimes required the same quick and brave reactions he used when he played third base in the major leagues.115 McMullin showed a sense of compassion on the job, once delaying an eviction order against a blind woman after watching her struggle to pack up her four kids' belongings in her upstairs flat.116 After four years, he earned a promotion to senior court officer (he was among the highest in his class in a written examination, although he finished last in the interview portion), and in 1947 moved up another rank, to captain, where he supervised a division of marshals. Even then, his salary was just $417 per month -- less than what some of his White Sox teammates had been making in 1919.117
When the marshal department and municipal courts were reorganized by the Civil Service Commission in 1950-51, McMullin and another captain, Harry G. Hurley, who had joined the marshals around the same time as McMullin, were reassigned and lost their rank. They sued the commission in March 1952 and Superior Court Judge Frank Swain ordered County Marshal Roy W. Carter to restore their ranks and salary, also awarding them back pay of $286.50 apiece.118
McMullin would not live to benefit from the judgment for very long. In his final years, he suffered from arteriosclerosis, a heart ailment. On November 19, 1952, just over a month after his 61st birthday, he had a stroke that caused hemorrhaging in the brain; he died a day later, at 4:40 p.m. on November 20. He was buried at Inglewood Park Cemetery.119