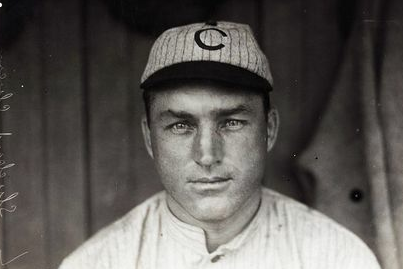 fingerfood.typepad.com 553 Reads 0 Comments
All one has to know about Mordecai Brown to understand that he is a man who had to overcome an obstacle in his life is to know that his nickname is "Three Finger." Yes, Mordecai "Three Finger" Brown lost portions of two fingers on his right hand, yet became a Hall of Fame major league pitcher.
In fact, Brown not only overcame his handicap, he used it to his advantage. His unique hand disability actually allowed his curveball to break radically, and helped him become one of the elite pitchers of his era.
So how did Brown suffer this injury? Well, actually, he suffered two separate injuries to his right hand, the first farm-related and the second due to a fall that occurred while he was healing. The farm mishap was the result of his hand being mangled by the knives in the farm's feed chopper as he slipped while adding material into the device.
The accident severed much of his index finger and damaged the others. Complicating matters further was the fact that he fell while healing from the first injury, breaking several finger bones. His fingers did not reset properly, especially his middle finger.
Instead of giving up, Brown took the initiative to practice throwing rocks at knotholes on his barn, which developed his accuracy. Further, the way he was forced to hold the ball when he threw made it spin in a radical manner, and the extra topspin made it difficult for a batter to connect with his pitches.
By turning a seemingly tragic event into a positive, Brown pitched spectacularly in the minor leagues. He was called up to the big leagues in 1903, where he stayed until his retirement in 1916 when he was close to 40 years old.
Brown's best years in the majors happened as a member of the Chicago Cubs, from 1904 until 1911. During that stretch, he won 181 games (an average of better than 22.5 wins per year) and had an ERA of 1.73. He spent one more season with Chicago, winning just five games, before moving to Cincinnati in 1913.
In addition to winning 20 or more games six times, he was also part of two Cubs World Series championships, including their last one to date (in 1908). He finished his career with a 239-130 record and a 2.06 ERA (the third-lowest ERA of any pitcher in the Hall of Fame, and the best of any pitcher with 200 or more wins).
Following his retirement, Brown returned to his home in Terre Haute, Ind., where he pitched, coached and managed in the minor leagues for more than a decade. He also ran a filling station.
Brown suffered from diabetes and the effects of a stroke and died in 1948. But he will certainly go down as not only one of the greatest baseball players ever, but also a man who persevered like no other