Lane was born on October 12, 1963. At that time, his parents lived in Lapoint, Utah. However, Lane's father, Clyde Frost, was on the rodeo circuit as asaddle bronc and bareback rider, and Lane's mother, Elsie, went to stay with her parents in Kim, Colorado, while she waited for Lane to arrive. Lane was born in the hospital in La Junta, Colorado, the closest medical facility to Kim. Lane has an older sister, Robin, and a younger brother, Cody.
Lane started riding dairy calves on the family dairy farm when he was five or six. When he was nine, he first got on a bull. However, to the relief of his family, he met Don Gay about that time, and Don told Lane that he should just ride calves and steers until his bones were more fully developed. Mrs. Frost says that they had been telling Lane the same thing, but according to his mother, "Of course he listened to Don."
At the age of 15 Lane started to ride bulls on a regular basis. Before that, he had been competing on calves and steers. His first rodeo awards were won in 1974, when he was 10, at the "Little Buckaroos" Rodeos held in Uintah Basin. Lane stayed on a bucking Shetland Pony to win first in bareback, took second in calf roping and rode a calf in the "bull riding" event to place third. While rodeoing wasn't the way of life his parents exactly wanted for him, they never discouraged him, and helped him whenever they could.
Lane spent his first fourteen years in Utah, doing chores on the dairy farm his parents owned, and later competing in various rodeo events. When he was in junior high school (seventh and eighth grade), in Vernal, Utah, he excelled in wrestling. Although he never wrestled before entering junior high, as many of the other boys had done, because of his interest in rodeo, the coaches still had high expectations for him. Lane, then weighing only 75 pounds, won 45 matches, lost four times, and had two ties.
Lane also continued competing in the "Little Britches Rodeos", and any other rodeo he could enter, until his parents moved the family to the town ofLane, Oklahoma, in 1978 to escape the harsh Utah winters. He attended Atoka High School in Atoka, Oklahoma.[2]
He was taught the art of riding by his father and also his dad's good friend, Freckles Brown, who was a World Champion Bull Rider. In Oklahoma, Lane was the National High School Bull Riding Champion in 1981. He was the Bull Riding Champion of the first Youth National Finals in Fort Worth, Texas, in 1982.
On January 5, 1984, he married Kellie Kyle, a barrel racer from Quanah west of Wichita Falls, Texas.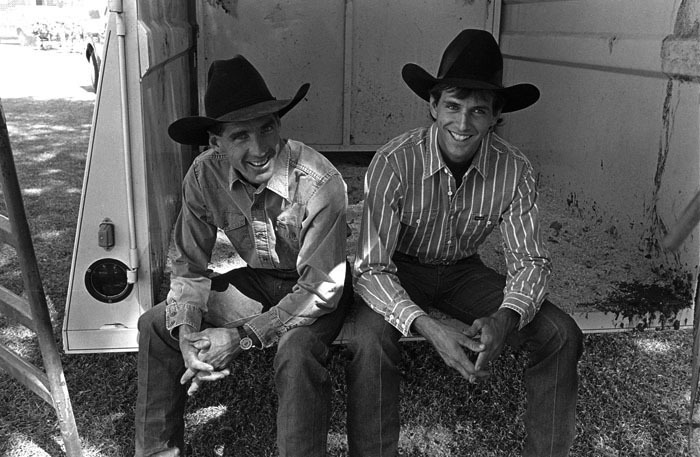 Frost joined the PRCA and began rodeoing full-time after graduating from high school in 1982. In 1987, he realized a lifelong dream when he became the PRCA World Champion Bull Rider at the age of 24. That same year, the great bull "Red Rock", owned by Growney Bros. Rodeo Company, was voted Bucking Bull of the Year. In 309 attempts, no one had ever ridden "Red Rock", and in 1988, at the Challenge of Champions, Frost rode "Red Rock" in seven exhibition matches and was successful in four out of seven tries. Frost went on to compete at the Winter Olympics inCalgary, Alberta, Canada. This was the first time that an exhibition rodeo was held at the Olympics
On July 30, 1989, at the Cheyenne Frontier Days Rodeo in Cheyenne, Wyoming, after completing a successful 91-point ride on a Brahma bull named "Taking Care of Business", Frost dismounted and landed in the dirt. The bull turned and hit him in the side with his horn, breaking several of Frost's ribs. Lane initially rose to his feet and yelling at Tuff Hedeman for help. As he was running and signaling for help, Frost fell to the ground causing the broken ribs to puncture his lungs and heart. Lane was rushed to Memorial Hospital. On the discovery that Frost's heart injury was irreparable, the doctors pronounced him dead. No autopsy was performed. Frost posthumously finished 3rd in the event. Taking Care of Business went on to appear in the 1990 National Finals Rodeo. Taking Care of Business was retired in the 90s and put out to stud until he died in 1999.
Statue of Lane Frost in Cheyenne, Wyoming
Frost is buried next to his hero and mentor Freckles Brown at Mount Olivet Cemetery in Hugo, Oklahoma