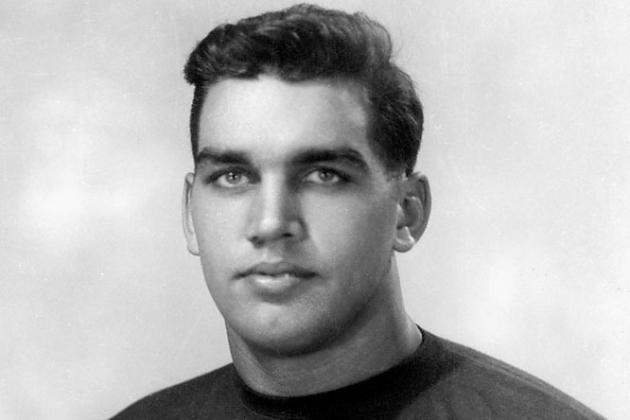 One of the greatest of the two-way pro football players, George Connor made his mark wherever he lined up.
All-NFL at offensive and defensive tackle, Connor became the first of the big, mobile linebackers when the Bears needed the 6-foot-3-inch, 240-pounder to stop the sweeps of Philadelphia's great running back, Steve Van Buren, in the late 1940s. Connor stayed at linebacker, defining the position for future generations of Bears greats, and was inducted into the Pro Football Hall of Fame in 1975.
A lifelong Chicagoan, Connor died at Northwestern Memorial Hospital on Monday after a long illness. He was 78.
Connor, nicknamed "Moose," was the consummate Chicago football hero. After starring at De La Salle, Holy Cross and Notre Dame, he insisted he play pro football for the Bears, forcing the old Boston Yanks to trade him.
Connor was an All-American at Holy Cross before World War II interrupted his college career. When he returned, he made All-American twice on two undefeated Notre Dame teams. In 1946, he was the winner of the first Outland Trophy awarded to the nation's top lineman.
"It would be difficult for me to go on record as saying where he excelled," Bears founder George Halas said at Connor's Hall of Fame induction. "I would rather have had three like him, but I feel fortunate to have had one Connor for eight seasons."
After a knee injury forced Connor to retire, he served as an assistant coach and later a broadcaster. He was a popular master of ceremonies for numerous charity events and a successful Chicago businessman.
Connor's two sons "never saw him play football--his playing days were over before we were born," George Connor Jr. said. "But he was probably just as accomplished as a public speaker, and we used to marvel at how little preparation he did. He'd show up at the Notre Dame Club or wherever he was speaking, talk to a few people, jot down some notes and just talk. And he'd be great at it."
Connor Jr. remembered his father as "the kindest man I ever knew, and the most humble. It didn't matter if you were as high-profile a person as he was or a busboy, he'd talk to you the same way. The way he treated people was an inspiration.
"I was riding in the car with him when it was announced on the radio that he'd been elected to the Pro Football Hall of Fame. I asked him, `Is that you?' And he just nodded. My brother Al found out when Hank Stram called the house to congratulate him."
Connor's resounding tackle of Green Bay's Veryl Switzer on a kick return in Wrigley Field will live forever in Bears lore. Switzer's helmet flew one way, the ball another, and Bears linebacker Bill George recovered the fumble for a touchdown.
Connor loved to hear and to tell stories about Halas.
"I was one of the few guys who could kid with Halas," Connor said. "But he was never really kidding when the subject was money."
Connor recalled chipping a tooth as a rookie while playing without a facemask. He told Halas he wanted the Bears to pay for his dental work. Halas pulled out an envelope with a note on it. Halas kept files of notes on everything.
"Let's see how you chipped that tooth, George," Halas said. "It says here it was third down-and-1 and we were playing the Steelers. It says here the runner made the first down right through you, George. And you want to get your tooth fixed?"
When Connor answered yes, Halas agreed.
Connor liked to joke about Halas' frugal ways, but he extracted a three-year, no-cut contract for a lofty $13,000 a year from the Bears' owner in 1948.
Connor once recalled a trip to Green Bay when he needed stitches after a kick to the chin.
"In those days, we didn't have a physician who would travel with the team," Connor said. "I think Halas hired a veterinarian. I had to go out of the stadium to a little shack they had there and this guy sewed me up with a crooked needle that looked like a fishhook.
"When I tried to get back in the stadium there was a Packer fan manning the gate, and he wouldn't let me in. `But I have to play,' I told him. `Tough,' he said. There were a couple of Bear fans way up in the top of the stands and they came down and started a fight with this guy and I got in. Then the Packer fans started beating me over the head with programs, lunch bags, anything they could get their hands on.
"I finally jumped the fence and ran across the field to our side, and Halas said to me, `You're late. That will cost you 25 bucks.'"
In 1952 and 1953, Connor was selected to All-Pro teams on both offense and defense, a rare tribute to his versatility.
Born prematurely on Jan. 21, 1925, Connor weighed less than three pounds and wasn't expected to survive. As a last resort, he was placed on a diet of boiled cabbage juice. His father, a general practitioner, and his mother, a nurse, kept a vigil for a year until Connor gained strength.
By age 17, he was playing for Holy Cross as a collegian and later inspired sportswriter Grantland Rice to write: "Connor is the closest thing to a Greek God since Apollo."
Survivors include his wife Suzanne; sons George Jr. and Albert; a sister, Mary Ellen Woodward; a brother, Jack; and several nieces and nephews.
Visitation will be held Friday from 1-9 p.m. at the Donnellan Family Funeral Home, 10045 Skokie Blvd., Skokie. A Mass of Christian Burial will be offered at 10 a.m. Saturday at Holy Name Cathedral, State and Superior in Chicago. Connor will be buried at All Saints Cemetery in Des Plaines. In lieu of flowers, the family requests donations to Maryville Academy, 1150 N. River Rd., Des Plaines, IL 60016.