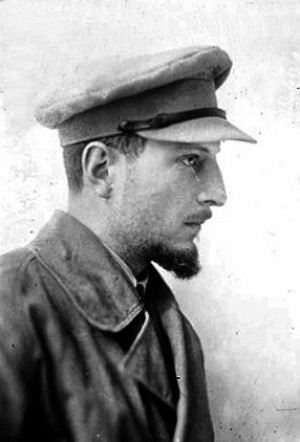 Paul Scott Mowrer was born in Bloomington, Ill. on July 14, to Rufus and Nellie (Scott) Mowrer. He had one brother, the columnist Edgar Ansel Mowrer, who was born in 1892. His father was a merchant and the family was forced by his business troubles to move to Chicago when Paul was in the sixth grade. He graduated from Hyde Park High School in Chicago in 1905. While a student there he had begun writing poetry and was coeditor of the school's literary magazine, The Hyde Parker.Immediately after graduating his perseverance landed him his first job as a reporter for the Chicago Daily News.

He left the paper from 1906 to 1908 to attend the University of Michigan where he took the classes that interested him and served as editor of the Michigan Daily, a university paper.
He did not receive a degree until the university made him an Honorary Doctor of Letters in 1941. While at college he met Winifred Adams, whom he married on May 8, 1909. They had two children: Richard Scott Mowrer and David A. Mowrer.

Paul Scott Mowrer returned to the Chicago Daily News in 1908 and remained there until 1945. He held a variety of positions during his career at the Daily News including Paris correspondent beginning in 1910; director of the Chicago Daily News war service in France from 1914 to 1918; official war correspondent accredited to the French Army from 1917 until the end of W WI; head of the Chicago Daily News Peace Conference Bureau from 1918 to 1919; associate editor and chief editorial writer 19345; editor from 1935 to 1944.

In 1918, Mowrer published his first volume of poetry: Hours of France in Peace and War. Hissecond book came out of his experiences as Paris Correspondent during the first Balkan War:Balkanized Europe: A Study in Political Analysis and Reconstruction (1921). He continued writing books and articles on political topics as well as publishing poetry and several plays throughout his career.

The first Pulitzer Prize given for correspondence was awarded to Mowrer in 1928 "for his coverage of international affairs including the FrancoBritish Naval Pact and Germany's campaign for revision of the Dawes Plan." He also earned the Sigma Delta Chi National Scholarship Award in 1932 for his writings as a foreign correspondent and had been one of eight correspondents who received the French Legion of Honor in April 1918. He was promoted to "officer" in 1933. That same year he and Winifred divorced, and on July 3, 1933, he married Hadley Richardson Hemingway (the first Mrs. Ernest Hemingway). Mowrer became the European editor of the New York Post in 1945 and remained there until his retirement to Chocorua, N.H. in 1948.


In New Hampshire, Mowrer continued to write poetry and was involved in several poetry societies, including the Poetry Society of New Hampshire (PSNH), of which he was a charter member. He served as the guest speaker, reading his poetry at the Society's first meeting. He was an active member of the Society including serving as chairman of the National Poeteen High School Awards. He recorded his poetry for the Library of Congress in 1961 and won the Lyric Poetry Award for traditional poetry in 1961 and 1962. In October 1965, his poem "O Little Men" was selected as the winner of the PSNH Poetry contest. At an Executive Board meeting of the Society in 1965 "by unanimous vote Paul Scott Mowrer was nominated as Poet Laureate."

The official position of New Hampshire Poet Laureate was not established by the NH Legislature until 1967. However, Governor John W. King and the Executive Council followed the lead of the Poetry Society of New Hampshire and voted to appoint Mowrer the first Poet Laureate of New Hampshire in September 1968. At a PSNH meeting held in June 1969 Mowrer explained about being Poet Laureate: "I was much impressed with the commission, but I had to take an oath of loyalty to the state." At that time the Poet Laureate was appointed for life and Mowrer went on to say "that's pretty tough, a life sentence, what's more, I'm only 82 years old and I could be hanging around for the next 50 years. But there's a way out of that, too; it says my tenure is subject to good behavior."

Mowrer's tenure as New Hampshire's first Poet Laureate was, sadly, shorter than he anticipated. He died April 7, 1971, at age 83 while vacationing in Beaufort, S.C.