Paul Brown, One of Pro Football's Primary Architects, Dead at 82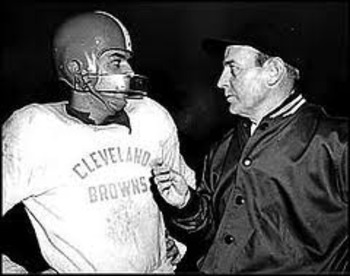 Paul Brown, a football innovator who founded the Cleveland Browns and the Cincinnati Bengals and built them into professional powers, died yesterday morning. He was 82 years old.
Allan Heim, a spokesman for the Bengals, said Mr. Brown died from complications caused by pneumonia, at his home in Cincinnati.
He's certainly one of the key figures in professional sports," said Ken Anderson, a former Bengals quarterback. "Football would not be what it is without him. He was always concerned about his guys after football. Football was
just a steppingstone. He wanted you to prepare for your life's work." Winner at Many Levels
Although Mr. Brown was a team owner and a general manager during his long and successful career, it was as a coach that he made his mark. He was a winner at every level of the game: high school, college, the military and the professional leagues.
As coach at Massillon (Ohio) High School in the 1930's, Mr. Brown became better known than most college coaches. Under Mr. Brown, Massillon was undefeated in 1935, 1936, 1938, 1939 and 1940. His teams lost only one of the 60 games he coached there.
In 1941, Mr. Brown became head coach of Ohio State, and by 1942 Ohio State was the unofficial national collegiate champion.
Two years later, as a lieutenant in the Navy, Mr. Brown was ordered to assemble a football team at the Great Lakes Naval Training Center in Illinois. "The admiral told me it was good for morale," Mr. Brown said later. "We put a
stadium in the center of the parade grounds, and one time we had 100,000 people."
He had complete freedom to choose players from the pool of recruits and enlisted men, and by that method he put together a team that was, perhaps, the most powerful in the United States at the time.
It was not until after the war that the 160-pound, baldish taskmaster achieved wide acclaim, as founder, part owner, general manager and coach of the Cleveland Browns in the All-American Football Conference.
It was with that team, which was named after him, that he became an innovator, by introducing intelligence tests for players, a year-round coaching staff, face guards on helmets, diagrammed pass patterns and a system of using guards as messengers to send in plays.
None of that would have mattered had the Browns been also-rans. But the team that Mr. Brown masterminded won four straight titles in the short-lived All-American Conference, as it posted a record of 47 victories, 4 losses and 3 ties. He then continued winning with most of the same players when the team entered the National Football League in 1950, in a merger.
The transition to the N.F.L. couldn't have gone more smoothly for the Browns. The club, which boasted stars like Otto Graham, Marion Motley, Mac Speedie, Dante Lavelli and Lou Groza, won the league title -- the first of its three league championships -- in its first year. In the time he was coach of the Browns in the N.F.L., Mr. Brown's teams won 111 games, lost 44 and tied 5. The Serious Approach
Through these years of success in two leagues, Mr. Brown's no-nonsense image was established. When his 1949 team lost for the first time after winning 29 consecutive games, his players anticipated a congratulatory pat for the streak. Instead, Mr. Brown said to the assembled squad: "I'm telling you this and it's cold turkey. If those of you who fell down on the job don't bounce back, I'll sell you."
Mr. Brown insisted on a dress and behavior code for his players: no T-shirts in training camp, no smoking in front of children, and no drinking in public places during the football season.
It was well known that Mr. Brown enjoyed a dry martini before dinner, but he gave it up during the football season because he asked his players to sacrifice
such pleasures then.