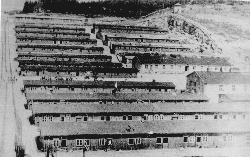 General view of Flossenbürg, April 23th, 1945, the day of its liberation.
Location: Germany, near Bayreuth* Established on: 1938* Liberation: April 23th, 1945, by the 2nd U.S. Cavalry.* Estimated number of victims: 73,000* Sub-camps: 93 sub-camps and external kommandos
After Dachau, Buchenwald and Sachsenhausen, Flossenbürg was the fourth concentration camp established in Germany by the Nazis. It was in a small village located in a beautiful area, with many forests and mountains, not far from Weiden. This location was chosen by Himmler in May 1938.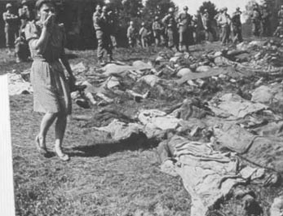 German civilians forced to visit the concentration camp of Flossenburg.
The first prisoners arrived in Flossenbürg during Spring 1938. On September 1, 1939, while the German Army was invading Poland, the concentration camp of Dachau was partially evacuated in order to be used as a training center for the future SS extermination squads. 981 prisoners from Dachau were transferred to Flossenbürg. Due to the increasing number of prisoners, the camp was constantly being transformed, and on April 5, 1940, the first convoy of foreign prisoners arrived in Flossenbürg.
Living conditions in Flossenbürg were extremely hard. The SS administration itself considered Flossenbürg as a "Hard Regime" concentration camp. Most of the prisoners had to work in the stone quarries. The malnutrition, the total lack of hygiene and medical care, and the brutality of the SS guards were the main causes of the death of thousands of prisoners in Flossenbürg as well as in its sub-camps.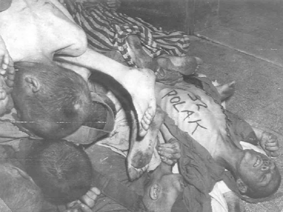 The SS wrote a last insult on the chest of a victim: "polak" (insult used by the SS for the Polish prisoners)
The prisoners in Flossenbürg were housed in 16 huge wooden barracks. The camp also had a kitchen, an infirmary ("Revier"), a laundry, and a disinfecting house. There were crematories and an execution place located just beside the crematories for "practical reasons" – (dixit) according to the SS. The whole camp was surrounded by an electrified barbed wire fence and watch towers. Two of those watch towers still remain today.
The original camp was established in 1938 for 1,600 prisoners. Some months later, the camp was transformed in order to house 3,000 prisoners. Eventually, more than 111,000 prisoners were incarcerated in Flossenbürg and its sub-camps - 95,400 men and 16,000 women. It is estimated that 73,000 prisoners died.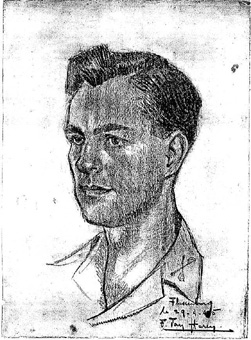 Portrait of Albert A. Salt, officer in the 2nd Calvary and liberator of Flossenbürg.
The portrait is signed "Flossenbürg, April 29th, 1945, F. Van Horen".
Please read the testimony of F. Van Horen, Belgian survivor of Esterwegen and
Flossenbürg concentration camps: "How a Drawing Saved my Life".
(Many thanks to Alger A. Salt for allowing us to place this portrait on this site.)
The camp was liberated on April 23, 1945 by the 2nd U.S. Calvary. There were only some hundreds of ill and weak prisoners left. The other prisoners--more than 14,000 men and women--were forced by the SS to leave the camp in a Death March some days before the Allied troops arrived. Three days after the liberation of the main camp, a U.S. unit retrieved the survivors of this Death March. All of them were in pitiful condition, and in only three days, more than 4,000 prisoners died of weakness or starvation, or killed by the SS.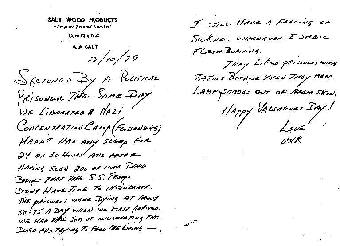 Note sent by Albert A. Salt to his niece.
The note contains a brief description of the portrait (see previous image):
"2/10/79 Sketched by a political prisoner the same day we liberated a Nazi concentration camp (Flossenbürg). Hadn't had any sleep for 24 or 30 hours and after having seen 200 or more dead bodies that the S.S. troops didn't have time to incinerate. The prisoners were dying at about 50 - 75 a day when we first arrived. We had the job of incinerating the dead and trying to feed the living. I still have a feeling of sickness whenever I smell flesh burning. They [the SS] liked prisoners with tattoos because they made lampshades out of their skin.
Happy Valentines Day!
Unk"
Pre–World War II
Before World War II, Flossenbürg was a men's camp primarily for "antisocial" or "criminal" prisoners. The camp's site was chosen so that the inmates could be used as unpaid labor to quarry the granite found in the nearby hills. The quarries belonged to the SS-owned and -operated German Earth and Stone Works (DEST) company.
During World War II
During World War II, most of the inmates sent to Flossenbürg, or to one of about 100 sub-camps, came from the German-occupied eastern territories. The inmates in Flossenbürg were housed in 16 huge wooden barracks, its crematorium was built in a valley straight outside the camp. In September 1939, the SS transferred 1,000 political prisoners to Flossenbürg fromDachau.
In 1941 to 1942, about 1,500 Polish prisoners, mostly members of the Polish resistance, were deported to Flossenbürg. In July 1941, SS guards shot 40 Polish prisoners at the SS firing range outside the Flossenbürg concentration camp. Between February and September 1941 the SS executed about one-third of the Polish political prisoners deported to Flossenbürg.
During World War II, the German army turned tens of thousands of Soviet prisoners over to the SS for execution. More than 1,000 Soviet prisoners of war were executed in Flossenbürg by the end of 1941. The SS also established a special camp for a load of Soviet prisoners of war within Flossenbürg. Executions of Soviet prisoners of war continued sporadically through 1944. Soviet prisoners of war in Mülsen St. Micheln, a subcamp of Flossenbürg, staged an uprising and mass escape attempt on 1 May 1944. They set their bunks on fire and killed some of the camp's Kapos, prisoner trustees who carried out SS orders. SS guards crushed the revolt and none of the prisoners escaped. Almost 200 prisoners died from burns and wounds sustained in the uprising. The SS transferred about 40 leaders of the revolt to Flossenbürg itself, where they were later executed in the camp jail.
There were over 4,000 prisoners in the main camp of Flossenbürg in February 1943. More than half of these prisoners were political prisoners (mainly Soviet, Czech, Dutch, andGerman). Almost 800 were German criminals, more than 100 were homosexuals, and 7 wereJehovah's Witnesses.
During the war, prisoner forced labor became increasingly important in German arms production. As a result, the Flossenbürg camp system expanded to include approximately 100 subcamps concentrated mainly around armaments industries in southern Germany and western Czechoslovakia.
On 1 September 1944, Flossenbürg became a training camp for extremely large numbers of female guards (Aufseherinnen) who were recruited by force from factories all over Germany and Poland. All together, over 500 women were trained in the camp and in time went on to its subcamps. Women matrons staffed the Flossenbürg subcamps, such as Dresden Ilke Werke, Freiberg, Helmbrechts, Holleischen, Leitmeritz, Mehltheuer, Neustadt (near Coburg),Nürnberg-Siemens, Oederan, and Zwodau, and it is known that six SS women (SS-Helferinnenkorps) staffed the Gundelsdorf subcamp in Czechoslovakia.
By 1945, there were almost 40,000 inmates held in the whole Flossenbürg camp system, including almost 11,000 women. Inmates were made to work in the Flossenbürg camp quarry and in armaments making. Underfeeding, sickness, and overwork was rife among the inmates, and with the harshness of the guards, this treatment killed thousands of inmates.
It is estimated that between April 1944 and April 1945, more than 1500 death sentences were carried out there. To this end, six new gallows hooks were installed. In the last months the rate of daily executions overtook the capacity of the crematorium. As a solution, the SS began stacking the bodies in piles, drenching them with gasoline, and setting them alight. Incarcerated in what was called the "Bunker," those who had been condemned to death were kept alone in dark rooms with no food for days until they were executed.
Amongst the Allied military officers executed at Flossenbürg were Special Operations Executive(SOE) agent Gustave Daniel Alfred Biéler (executed 6 September 1944). As Germany's defeat loomed, a number of the SOE agents whom the SS had tortured repeatedly in order to extract information, were executed on the same day. On 29 March 1945 13 SOE agents were hanged, including Jack Charles Stanmore Agazarian and Brian Rafferty. Together with his deputy GeneralHans Oster, military jurist General Karl Sack, theologian Rev. Dietrich Bonhoeffer and Ludwig Gehre, Wilhelm Canaris was humiliated before witnesses and then executed on April 9, 1945. At the time of his execution, Canaris had been decorated with the Iron Cross First and Second Class, the Silver German Cross, the Cross of Honor and the Wehrmacht's Twelve and Twenty-Five Year Long-Service Ribbons. On 1 August 2007 a memorial was unveiled at Flossenbürg to their memory.
Crematorium at Flossenbuerg
General view of Flossenbürg concentration camp after liberation in April 1945
"Food transport (Essenträgers)" – drawing by Stefan Kryszczak
"In front of block 23"- drawing by Stefan Kryszczak
Father Lelere testifies at the trial of former camp personnel on 21 June 1946
Crematorium at Flossenbuerg The title of this article contains the character ü. Where it is unavailable or not desired, the name may be represented as Flossenbuerg.
Konzentrationslager Flossenbürg was a Nazi concentration camp built in May 1938 by theSchutzstaffel (SS) Economic-Administrative Main Office at Flossenbürg, in the Oberpfalzregion of Bavaria, Germany, near the border with Czechoslovakia. Until its liberation in April 1945, more than 96,000 prisoners passed through the camp. About 30,000 died there.
Death march and liberation
In early April 1945, as American forces were approaching the camp, the SS executed General Hans Oster, Admiral Wilhelm Canaris, Rev. Dr. Dietrich Bonhoeffer, Dr. Karl Sack, Dr. Theodor Strünck and General Friedrich von Rabenau, who were involved in the July 20, 1944 assassination attempt on Adolf Hitler, along with the French Resistance worker Simone Michel-Lévy, who had managed to organize an uprising in the camp. On 20 April 1945, they began the forced evacuation of 22,000 inmates, including 1,700 Jews, leaving behind only those too sick to walk. On the death march to the Dachau concentration camp, SS guards shot any inmate too sick to keep up. Before they reached Dachau, more than 7,000 inmates had been shot or had collapsed and died.
By the time the U.S. Army freed the camp on April 23, 1945, more than 30,000 inmates had died at Flossenbürg. Troops from the 90th Infantry Division and the 97th Infantry Division[5][6] found about 1,600 ill and weak prisoners, mostly in the camp's hospital barracks.