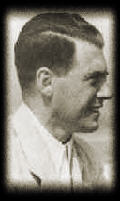 Dr. Josef Mengele
At Auschwitz extermination was conducted on an industrial scale with three million persons eventually killed through gassing, starvation, shooting, and burning. Josef Mengele was the chief provider for the gas chambers - and did well! When it was reported that one block was infected with lice, Mengele solved the problem by gassing all the 750 women assigned to it. Mengele did a number of medical experiments of unspeakable horror at Auschwitz, using twins. These twins as young as five years of age were usually murdered after the experiment was over and their bodies dissected.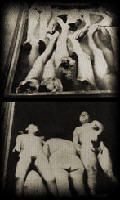 Victims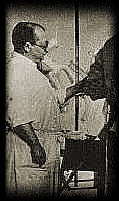 Dr. Carl Clauberg
At Auschwitz _Professor Carl Clauberg _injected chemical substances into wombs of thousands of Jewish and Gypsy women. They were sterilized by the injections, producing horrible pain, inflamed ovaries, bursting spasms in the stomach, and bleeding. Men and women were positioned repeatedly for several minutes between two x-ray machines aimed at their sexual organs. Most subjects died or were gassed immediately because the radiation burns from which they suffered rendered them unfit for work. Men's testicles were removed and sent to Breslau for histopathological examination.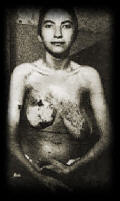 A Victim
Dr. Herta Oberheuser
Dr. Herta Oberheuser killed children with oil and evipan injections, then removed their limbs and vital organs. The time from the injection to death was between three and five minutes, with the person being fully conscious until the last moment. During the Holocaust she made some of the most gruesome and painful medical experiments, focused on deliberately inflicting wounds on the subjects. In order to simulate the combat wounds of German soldiers fighting in the war, Herta Oberheuser rubbed foreign objects, such as wood, rusty nails, slivers of glass, dirt or sawdust into the wounds.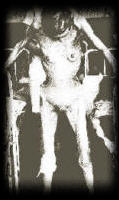 A Victim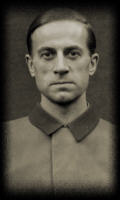 Dr. Karl Brandt
In August 1944 Dr. Karl Brandt, Hitler's personal physician, was appointed Reich Commissioner for Sanitation and Health, ranked as the highest Reich authority. He was authorized to issue instructions to the medical organizations of the government, to the party, and the armed forces, in the field of health. He participated in the euthanasia program, which involved the systematic execution of the aged, insane, incurably ill, or deformed children by gas or lethal injections in nursing homes, hospitals and asylums. They were regarded as 'useless eaters' and a burden to the German war machine.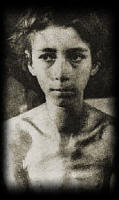 A Victim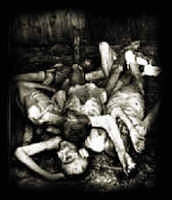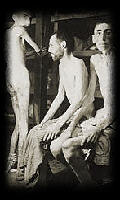 After WW2, in October 1946, the Nuremberg Medical Trial began, lasting until August of 1947. Twenty-tree German physicians and scientists were accused of performing vile and potentially lethal medical experiments on concentration camps inmates and other living human subjects between 1933 and 1945. Mengele was not amongst the accused.
Murders, brutalities, cruelties, tortures, atrocities, and other inhuman acts were an everyday occurrence as a result of these experiments: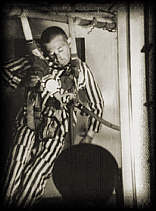 Death in the compression chamber
High-Altitude Experiments
to investigate the limits of human endurance and existence at extremely high altitudes. The victims were placed in the low-pressure chamber and thereafter the simulated altitude therein was raised. Many victims died as a result of these experiments and others suffered grave injury, torture, and ill-treatment.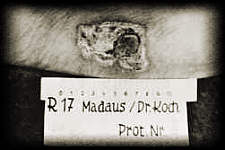 A victim burned with phosphorous
Incendiary Bomb Experiments
to test the effect of various pharmaceutical preparations on phosphorous burns. These burns were inflicted on the victims with phosphorous matter taken from incendiary bombs, and caused severe pain, suffering, and serious bodily injury.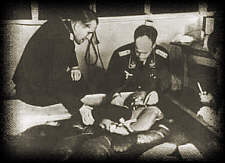 A victim immersed in freezing water
Freezing Experiments
to investigate the most effective means of treating persons who had been severely chilled or frozen. The victims were forced to remain in a tank of ice water for up to 3 hours. Extreme rigor developed in a short time. Numerous victims died in the course of these experiments. After the survivors were severely chilled, rewarming was attempted by various means. In another series of experiments, the victims were kept naked outdoors for many hours at temperatures below freezing. The victims screamed with pain as their bodies froze.
Sea-water Experiments
to study various methods of making sea water drinkable. The victims were deprived of all food and given only chemically processed sea water. Such experiments caused great pain and suffering and resulted in serious bodily injury to the victims.
Malaria Experiments
to investigate immunization for and treatment of malaria. The victims were infected by mosquitoes or by injections of extracts of the mucous glands of mosquitoes. After having contracted malaria the victims were treated with various drugs to test their relative efficacy. Over 1,000 victims were used in these experiments. Many died and others suffered severe pain and permanent disability.
Mustard Gas Experiments
to investigate the most effective treatment of wounds caused by Mustard gas. Wounds deliberately inflicted on the victims were infected with Mustard gas. Some of the victims died as a result of these experiments and others suffered intense pain and injury.
Sulfanilamide Experiments
to investigate the effectiveness of sulfanilamide. Wounds deliberately inflicted on the victims were infected with bacteria such as streptococcus, gas gangrene, and tetanus. Circulation of blood was interrupted by tying off blood vessels at both ends of the wound to create a condition similar to that of a battlefield wound. Infection was aggravated by forcing wood shavings and ground glass into the wounds. The infection was treated with sulfanilamide and other drugs to determine their effectiveness. Many victims died as a result of these experiments and others suffered serious injury and intense agony.
Spotted Fever (Typhus) Experiments
to investigate the effectiveness of spotted fever and other vaccines. Numerous victims were deliberately infected with spotted fever virus in order to keep the virus alive - over 90 percent of the victims died as a result.
Experiments with Poison
to investigate the effect of various poisons upon human beings. The poisons were secretly administered to the victims in their food. The victims died as a result of the poison or were killed immediately in order to permit autopsies. In or about September 1944 the victims were shot with poison bullets and suffered torture and death.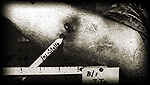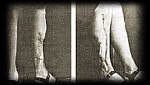 Fifteen defendants were found guilty, and eight were acquitted. Of the 15, seven were given the death penalty and eight imprisoned. Herta Oberheuser, the doctor who had rubbed crushed glass and sawdust into the wounds of her subjects, was the only female defendant in the medical trial. She received a 20 year sentence but was released in April 1952 and became a family doctor at Stocksee in Germany. Her license to practice medicine was revoked in 1958.
Karl Brandt was one of the 15 defendants found guilty of war crimes at the Doctors Trial. He was executed June 2, 1948 at Landsberg prison in Bavaria.
Carl Clauberg was put to trial in the Soviet Union and sentenced to 25 years. 7 years later, he was pardonned under the _returnee_arrangement between Bonn and Moscow and went back to West Germany. Upon returning he held a press conference and boasted of his scientific work at Auschwitz. After survivor groups protested, Clauberg was finally arrested in 1955 but died in August 1957, shortly before his trial should have started.
Despite international efforts to track him down, Josef Mengele was never apprehended and lived for 35 years hiding under various aliases. He lived in Paraguay and Brazil until his death in 1979.
One afternoon, living in Brazil, he went for a swim. While in the ocean he suffered a massive stroke and began to drown. By the time he was dragged to shore, he was dead.



'Among all criminals and murderers, the most dangerous type is the criminal physician'  - Miklos Nyiszli, prisoner and pathologist to Dr. Josef Mengele at Auschwitz
http://www.auschwitz.dk/doctors.htmThe Holocaust was the systematic annihilation of six million Jews bthe Nazis during World War 2. In 1933 approximately nine million Jews lived in the 21 countries of Europe that would be military occupied by Germany during the war. By 1945 two out of every three European Jews had been killed by the Nazis. 1.5 million ere murdered. This figure includes more than 1.2 million Jewish children, tens of thousands of Gypsy children and thousands of handicapped children.