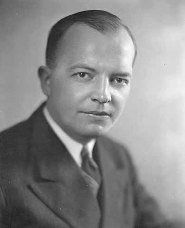 Harold Stassen was born on a farm in Dakota County, Minnesota on April 13, 1907, the fourth of William A. and Elsie (Mueller) Stassen's five children. He graduated from St. Paul's Humboldt High School at the age of 14, and received his law degree from the University of Minnesota Law School in 1929.
Stassen opened his first law office in South St. Paul (November 1929) with Elmer J. Ryan as his partner. He was elected Dakota County attorney the same year and served two terms. In 1938, at the age of 31, Harold Stassen was elected Governor of Minnesota, the youngest governor in the state's history. He was reelected governor in 1940 and, again, in 1942.
Four months into his third term Stassen resigned and enlisted in the Navy (April 27, 1943). He served as Admiral William F. Halsey's assistant chief of staff, was decorated three times, awarded six major battle stars, and was in charge of the Navy's prisoner evacuation program in Japan. He was released from active service on November 15, 1945. During his Naval service Stassen was selected by President Roosevelt as a delegate to the United Nations charter conference in San Francisco (April-June 1945).
Stassen was a strong contender for the 1948 Republican nomination for President but was defeated by Thomas Dewey at the G.O.P. national convention. Following the campaign Stassen served as president of the University of Pennsylvania (1948-1953). Stassen also ran a strong campaign against Senator Robert Taft of Ohio for the 1952 Republican presidential nomination, but both Stassen and Taft were defeated by General Dwight D. Eisenhower.
In 1953 President Eisenhower chose Stassen as a member of his Cabinet and the National Security Council. He served as director of the Mutual Security Agency and the Foreign Operations Administration. In 1955 Eisenhower appointed Stassen as Special Assistant to the President for Disarmament Policy and was the chief U.S. negotiator at the 1957 London Arms Control Negotiations.
In July and August of 1956 Stassen took a leave of absence from the Eisenhower cabinet and tried unsuccessfully to convince delegates to the Republican National Convention to replace Richard Nixon with Christian Herter (then Governor of Massachusetts) as Eisenhower's vice presidential running mate.
When the London Arms Control Negotiations ended in a stalemate and in disagreement with Secretary of State John Foster Dulles, Stassen resigned his cabinet position (February 18, 1958) and moved to Philadelphia where he practiced law and continued his involvement in politics.
He campaigned unsuccessfully for governor of Pennsylvania (1958 and 1966) and for mayor of Philadelphia (1959). In 1978 Stassen moved back to Minnesota and ran a senatorial campaign for the U.S. legislature. In 1982 he campaigned for the Minnesota governorship and in 1986 for the fourth district congressional seat. He also campaigned as a Republican for the U.S. Presidency in every election except 1956, 1960, and 1972.
Raised as a Baptist, Stassen was active with regional Baptist associations as well as many other religious organizations. He was vice president of the Northern Baptist Convention in 1942, national co-chairman of its World Mission Crusade in 1946, and a state regional chair for major gifts of the World Mission Campaign in 1967. He was president of the Convention in 1963-1964 during which time he led a tour to Moscow to meet with members of Russia's Baptist All Union Congress. As Governor of Minnesota, throughout his naval service, and into his University of Pennsylvania presidency, Stassen served as the president of the International Council on Religious Education and helped merge that organization with the National Council of the Churches of Christ in 1950. After their merger, Stassen continued by participating in the Council's Division of Christian Education. In 1946 and 1949 he participated with the National Conference of Christians and Jews on publicity for their annual observance of Brotherhood Week. In the latter 1960s and early 1970s Stassen also participated with the U.S. Inter-religious Committee on Peace which sponsored a series of conferences on religion and peace.
Harold Stassen married Esther G. Glewwe on November 14, 1929 and they had two children: a son, Glen Harold, and a daughter, Kathleen Esther.