C Ray Schalk (25.0 WAR)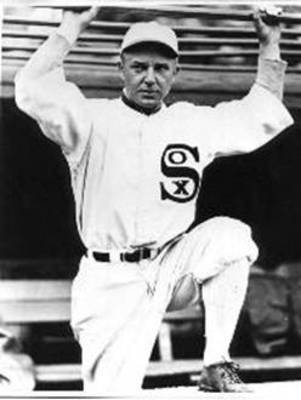 en by Brian Stevens.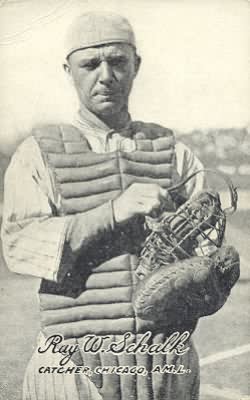 In an era when the common impression of a baseball catcher was a sturdy player with bulging shoulders, a husky framework and brute strength, the 5'7" (many sources say 5'9"), 155-pound Ray Schalk did not convey an imposing figure behind the disc. But as John C. Ward wrote in Baseball Magazine in 1920, "Schalk is unquestionably the hardest working catcher in baseball as he is doubtless also the brainiest, the nerviest, the most competent. He presents the unique distinction of performing more work than any other catcher and at the same time performing it better. Both in quantity and in quality of service Ray Schalk is unquestionably the premier backstop in baseball."
Raymond William Schalk was born in Harvel, a small village in central Illinois, on August 12, 1892, the fifth of six children of Herman and Sophia Schalk, German immigrants who had arrived in the United States in 1875. Herman supported his family as a day laborer in Litchfield, 20 miles away, where his children, including Ray, attended public school. As a youngster, Schalk worked as a newsboy and carried the Chicago Tribune and weekly Litchfield News. Ray was captain of the Litchfield basketball team, but left high school at the end of his second year to learn the printer's trade. Two years later he traveled to Brooklyn, New York to study how to operate the linotype machine. In 1910, after mastering the intricacies of this noble mechanism, Schalk returned home, but found his desire to progress in his chosen field was not matched by career advancement. Rather, it was Schalk's participation in local baseball games that soon earned him the promotion he was looking for.
First a member of the town team, he soon moved up to semipro ball for the sum of $2 a game. From there he quickly progressed on to Taylorville (Illinois) in the Class D Illinois-Missouri League, where he caught 47 games, batted .387, and earned $65 a month. Later in the 1911 season, the 18-year-old moved up to the Milwaukee Brewers of the American Association, and appeared in 31 games. Returning to Milwaukee for the 1912 campaign, he batted .271 in 80 contests, attracting so much attention for his aggressive approach to the catching position and his feisty on-field leadership that he was purchased by the Chicago White Sox for $10,000 and two other players.
The day before Ray Schalk's twentieth birthday, August 11, 1912 was both his first visit to a major league park and his first appearance in a big league game. Arriving by streetcar minutes before the first game of a doubleheader against the Philadelphia Athletics, manager Jimmy Callahan told the rookie, "Young man, here's your pitcher, Doc White. You're the catcher." In his first at bat, Schalk grounded out to Frank Baker but did manage to get a hit later in the game against Chief Bender. Reflecting back on the experience nearly fifty years later, Schalk reminisced, "You think of no-hit games and playing in the World Series, but that first game was my greatest day."
Schalk played 23 games for the White Sox in 1912, batting a respectable .286. But it was his energy, willingness to learn and outright desire that made the biggest impression on his coaches and teammates. The electric Schalk soon became the favorite of Sox coach Kid Gleason, who helped the young backstop hone his skills. "We'd start a game at 3:00 p.m., but he'd have me out practicing at 9:30 in the morning. We'd work on catching the double steal, he had me chasing from behind the plate to field bunts, and running under pop flies. He taught me to crouch over and make myself a target on the throws from the outfield. He taught me to give, or yield with the catch, to never hold the ball high when making a throw--to cock my hand by my ear. He was a tireless worker." And Schalk was undoubtedly an indefatigable student.
The diminutive Schalk, weighing a scant 148 pounds in his first season, was thought at first too small to catch Chicago ace Ed Walsh's sharply breaking spitball. But with the help of Gleason, he was soon handling Walsh better than Billy Sullivan, Bruno Block, or Red Kuhn. Even more difficult than catching Walsh was backstopping Ed Cicotte, who had more pitches than a carnival barker. Said Schalk about Cicotte, "He had every type of pitch, including a knuckler, fadeaway, slider, screwball, spitter, emery ball, and shine ball."
But more important than handling the ball was Schalk's ability to handle his pitchers. Wrote John Sheridan of The Sporting News in 1923, "...Schalk at all times insists that his pitcher shall have and use his stuff, that he shall be able to control it, and that he should use it whenever the catcher calls for it. The manner in which Schalk handles his pitchers must be of inestimable value to his team. He, more than any catcher that I can remember, makes a pitcher work up to the mark all the time. No catcher that I have known made or makes the pitcher work right, stand right on the rubber and use a correct motion, hold runners close to base, better than said Schalk. As a manager of young pitchers, Schalk stands head and shoulders above the others of all time."
Though it may be inferred that Schalk earned his nickname "Cracker" because he cracked the whip over his White Sox hurlers, the moniker was actually hung on him by Sox outfielder Shano Collins. Collins saw a resemblance between Schalk's physique when viewed from behind and a cracker box. The nickname stayed with the popular Schalk long after his playing days ended.
Revered by his teammates for his intelligent, nervy play and aggressive style on the diamond, his easy disposition made him a favorite off the field as well, and Cracker's youthful looks made for some interesting horseplay. One rainy day in 1915 in Washington, Cicotte, Walsh and Collins were enjoying their favorite beverages in a tavern when Schalk entered the bar wearing a cap and raincoat. He sidled up to the trio, but before he could order his own beer the bartender growled, "We don't allow no school kids in this joint." Schalk suggested to his teammates that they identify him, but they gave no hint of recognition and instead congratulated the bartender for enforcing the policy which forbade little boys from pestering men at their amber.
Another off field adventure drew the ire of owner Comiskey. Looking to use the Chicago skyline's newly constructed Tribune Tower for a promotional stunt, a movie company came upon the idea of using Schalk to catch a ball thrown from the top of the Tower--a distance of 463 feet. Smiling for the cameras, the Cracker caught the third ball tossed. "Didn't sting me any more than one of those high fouls Ruth used to hit," he later said. But Comiskey caught wind of the stunt and was irate when Schalk arrived at the ballpark later that day. Comiskey chided Schalk of the consequences had his star catcher misjudged the ball. Schalk's unadorned response--"But I didn't midjudge it"--did not placate the Old Roman.
Schalk played the catching position like a fifth infielder. He is credited with being the first catcher to back up infield throws to first base and outfield throws to third. His speed, alertness and prowess led to his claim of being the only major league catcher to make a putout at every base. His first putout at second base occurred in 1918 against St. Louis in Chicago. On a hit and run, the Brownie's Ray Demmitt sped past second as Joe Jackson made a great catch in deep left off the bat of Joe Gedeon. Schalk, in the middle of the diamond, ran to second to take the relay from Sox shortstop Swede Risberg and slapped the tag on Demmitt. Putouts at first were more common because Schalk would often follow runners to first on hits to right field. Chick Gandil, the first baseman, would then decoy himself away from the bag, drawing the runner into a wide turn at first. Right fielder Eddie Murphy would then peg the ball back to Schalk at first to tag out the unsuspecting runner.
Over his 18-year career (1,757 games with the White Sox and 5 with the New York Giants in 1929), Schalk participated in more double plays (226) than any other backstop in history, and his lifetime total of 1,811 assists ranks second all-time behind 19th century backstop Deacon McGuire. Schalk led the American League in fielding percentage and putouts eight times each, both figures tops among catchers.. He also arguably holds the record for career no-hitters caught with four (historians have since dismissed Jim Scott's May 14, 1914 gem, as he lost his no-hitter in a losing effort in the tenth inning). In 1916, Schalk established the single-season stolen base record for catchers with 30, a mark not broken until 1982 when John Wathan swiped 36 bags. Though his lifetime batting average was just .253, the lowest of anyone elected to the Hall of Fame as a position player, Schalk was considered an excellent bunter, both for the base hit and sacrifice. The Cracker was a frequent selection to Baseball Magazine's All-Star American League Team, and was named by both Ty Cobb and Babe Ruth to their own personal all-time all-star teams.
From 1913 to 1926, Schalk caught nearly 80 percent of the White Sox' contests. His durability was legendary--broken fingers, deep spike lacerations and sprained ankles did not sideline him. During one game against the Tigers in 1922, Schalk was knocked unconscious by a foul tip. Trainer William "Doc" Buckner of the White Sox resorted to artificial respiration and use of oxygen to revive him. Recounted Buckner, "As soon as he got his breath and collected his senses, he immediately wanted to get back behind the plate."
In 1920, the Cracker backstopped 151 of the 154 games for the second place White Sox. Schalk maintained he would have caught the full 154 but for an extremely hot sun on a no-Sunday baseball off-day in Philadelphia. Related Schalk, "I went over to Atlantic City that Sabbath and frisked on the sand too much and too long. When I got back to Philly that night, I looked more like a boiled lobster than any human I ever saw." The sunburn, not cracked knuckles, charley horses or aching dogs, kept Schalk from catching every game in 1920.
Schalk's best season was probably 1922 when he batted .281, one point below his career best of .282 in 1919. In that 1922 campaign Schalk hit four of his career 11 home runs, stole 12 bases in 16 attempts, hit for the cycle on June 27 (the next White Soxer to do so was Jack Brohamer in 1977) and drove in 60 runs. He led the league in putouts, chances, while committing only 8 errors, tying the American League record for fielding percentage at .989. He finished third in voting for the 1922 American League Most Valuable Player Award.
Ray Schalk's silence regarding the Black Sox scandal of 1919 and his status as one of the honest men of the Series (in which he batted .304) is well known. Schalk knew something was amiss when both Cicotte and Lefty Williams continually crossed him up on pitches. Regarding the penalties doled out to the conspirators, Schalk did not disagree with the banishment, but later portrayals of the eight as vicious criminals bothered him. In a discussion with Ed Burns of the Chicago Tribune in 1940, Schalk conveyed his compassion: "As long as I live, I'll never forget the day Charles A. Comiskey come into the clubhouse and told eight [sic] of the boys they had been exposed and were through forever. It was a shocking scene and my mixed emotions never have been straightened out since I watched several of the ruined athletes break down and cry like babies. I never have worried about the guys who were hard-boiled, but those tears got me."
Pennant purgatory followed the Sox after the revelation of the Series fix in late 1920. The dismissal of seven players (Gandil had retired after the 1919 fiasco) wore a large hole in the Pale Hose that left the lineup talent threadbare for years. But Schalk's keen efforts on and off the diamond helped bring respectability to the club. In addition to his MVP-caliber year in 1922, Schalk was responsible for discovering future Hall of Famer Ted Lyons in March, 1923 at Baylor College in Waco, Texas. Lyons joined the club later that year in St. Louis, and would collect a franchise-record 260 victories for the Chisox.
The respect and regard for Schalk's knowledge of the game led him to succeed his friend Eddie Collins as White Sox player-manager in November, 1926. But Schalk's lenient style led to his forced resignation in July, 1928. Expecting to retain his contract as a catcher at an estimated $15,000 (his managerial salary had been $25,000), Schalk--who had only one plate appearance that year--was distressed when Comiskey cut his pay to $6,000. Schalk considered litigation, but a lawsuit was never filed.
Instead, Schalk joined the New York Giant coaching staff with John McGraw in 1929, appearing as a player in five games that year. He became a coach for the cross-town Cubs in 1930 and 1931, managed the Buffalo Bisons in the International League from 1932 to 1940, and, then returned to Milwaukee of the American Association later in 1940, 28 years after he had last played for the club.
It was in these later years that Schalk operated a popular bowling and pool hall establishment in Evergreen Park, Illinois. Ray was also one of the founders of Baseball Anonymous, an organization whose charge was to assist indigent ballplayers. In 1965, after assistant coaching at Purdue University for 18 years, Ray Schalk finally retired from baseball at the age of 72. Interestingly, throughout all his years following the game of baseball, Schalk would never fail to call and congratulate the catcher of a no-hitter. Schalk always remained popular with Chicagoans, and was invited to catch the first ball of the 1959 World Series, thrown out by Red Faber.
In 1955, Schalk was named to the Baseball Hall of Fame by the Veteran's Committee. Fittingly, he was inducted to the Hall on the same day as Ted Lyons, the man he "discovered" 32 years earlier. At the ceremony, Schalk thanked his strongest supporter, his wife, the former Lavinia Graham, saying, "Whatever I've accomplished, I owe to Mrs. Schalk." The Schalks later celebrated their 50th wedding anniversary on October 25, 1966. The couple had two children and several grandchildren. When Ray Schalk passed away of cancer at age 77 on May 19, 1970, the White Sox and California Angels observed a moment of silence prior to their contest in memory of the Hall of Famer. He was buried at Evergreen Cemetery in Evergreen Park.
Note
This biography originally appeared in David Jones, ed., Deadball Stars of the American League (Washington, D.C.: Potomac Books, Inc., 2006).