Forrest "Lefty" Brewer part 1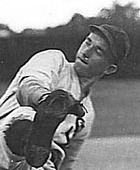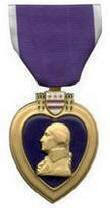 Date and Place of Birth:
December 9, 1918 Sequatchie, TN
Date and Place of Death:
June 6, 1944 Normandy, France
Baseball Experience:
Minor League
Position:
Pitcher
Rank:
Private
Military Unit:
HQ 1st Company, 508th PIR, 82nd Airborne Division US Army
Area Served:
European Theater of Operations
Francis Field, home of the Florida State League's St Augustine Saints, was a magical place during the summer of 1938. With the smell of roasted peanuts filling the air, a tall, slender 19-year-old unleashed a season of blistering fastballs on his way to a 25-win rookie season. Six years later the fun-loving southpaw with everything to live for was dead.
Forrest V. "Lefty" Brewer was born in Sequatchie, Tennessee, about 30 miles northwest of Chattanooga. The Brewers were a nomadic family—relocation was to become a familiar thing—and in 1924, parents Frank and Mattie Brewer loaded up the family Dodge with five-year-old Forrest and his siblings—Vera, Frank, Jr., Kate and William—along with their scant few possessions and moved 600 miles south to Orange City, Florida.

As it was for many families during the Depression, times were hard for the Brewers. They were an impoverished family, moving from town to town, and slum to slum, where street fights were commonplace and electricity was not. Frank Brewer, a man troubled by alcohol, ran a succession of failed grocery stores. When the business failed, the family moved on and his wife, Mattie, eventually became the breadwinner, operating a boarding house for railroad workers from the Seaboard Railway in the Lackawanna neighborhood of Jacksonville, Florida.

The Brewer children, nonetheless, were impervious to their hardships. Their days were spent hunting rabbits and squirrels, and fishing for copperhead bream, bass and catfish. However, Forrest had a propensity for getting in trouble that remained with him all his life. "He was not a trouble maker," recalled his younger brother, William. "It just seemed to follow him." On one occasion, Forrest stole a watermelon from a neighbor's yard. He was soon caught and the neighbor made such a fuss that, for a time, William thought his brother was going to jail. Another time, a neighbor was painting an old washing machine and warned the Brewer boys not to touch it. Forrest could not resist and left fingerprints all over the wet paint resulting in the neighbor chasing Forrest, with paint brush in hand, all the way down the street.

Sports were a big thing for the Brewer boys. Nearby Lackawanna Park provided a swimming pool, basketball court, horseshoe pits and football field encompassed by a running track. Forrest—or Lefty as he was known to everyone—was the gifted athlete of the family. He was coordinated, fast and agile, and the best player in neighborhood sandlot ballgames played with two sack bases and home plates made out of tin. Brewer became a stellar pitcher with the Robert E. Lee High School team, and at the ballfield near the city incinerator, he fine-tuned his pitching skills with the Smith's Service Station team in the City League. He also played softball and pitched for the Atlantic Coast Line Railroad team where he worked after dropping out of high school.

In the spring of 1938, 19-year-old Brewer—along with infielder Faulene Kirkland, who also played for Smith's Service Station—attended a baseball training school conducted by veteran minor leaguer John "Poke" Whalen, and general manager of the Florida Coast League's St. Augustine Saints, Fred Hering. They needed just one look at Brewer's deceptive yet smooth delivery, his overpowering fastball and hard-breaking curve before offering him a contract with the Class D Saints. Under the watchful eye of veteran catcher Allen Mobley and player-manager and former major leaguer Lyle Judy, Brewer turned in a truly memorable rookie performance.

Francis Field, home of the Saints, was a magical place during the summer of 1938. With the smell of roasted peanuts filling the air, and the rhythmic sounds of soda bottles banging against wooden bleachers during late inning rallies, Brewer unleashed a season of blistering fastballs on his way to an incredible 25 wins. In 41 appearances, he easily led the league in wins and strikeouts with 234, while his 1.88 earned run average, best among left-handers, was third best in the league. Brewer completed 28 of the games he started, hurled four shutouts, and was selected to the all-star team on the way to becoming a local hero.

William Brewer, who was 14 at the time, was in awe of his older brother's success as a professional baseball player. "Kate and I started a scrapbook," he recalled, "and we would gloat over his deeds on the mound. We were so proud of what he did. I would go to school with one of his write-ups in my pocket, dangling out for everyone to see. I was to become known more and more as 'Lefty Brewer's brother' and I reveled in it."

Brewer's performance made quite an impact on the baseball world. "When future historians prepare their texts on Florida State League history," proclaimed league secretary, Peter Schaal, at the conclusion of the 1938 season, "you can bank on it that the antics of one Forrest 'Lefty' Brewer ... will occupy a major portion of the space assigned to the hurling heroes. Brewer is easily the greatest young prospect ever to go out of the Florida State League."

At Orlando, on June 6, 1938, Brewer hurled the masterpiece of his brief career. His eldest sister, Vera, was living in DeLand at the time and usually attended Brewer's games at Orlando. But on this day, Vera was guest of honor at a birthday party. Brewer called his sister that afternoon, wished her a happy birthday and reminded her to tune in the radio broadcast of the game. "I'll pitch a real special one tonight," he said, "since it's your birthday." Vera had the radio tuned in to the broadcast from Orlando, but what with the birthday celebration going on, it was the seventh inning before she realized that Orlando had not made a single hit off her brother.

"From that point on, you could have heard a feather floating in our living room," she recalled. "We listened—hardly daring to breath lest we jinx him—as one after another Orlando men went down hitless."

That night, Brewer was carried from the field on the shoulders of his teammates after beating the Orlando Senators, 3–0. He walked one and struck out 14 in achieving the Florida State League's only no-hitter that year. Despite Brewer's 25 wins and another 16 contributed by Carl Weigle, the St. Augustine Saints finished the season in fifth place with a 70–70 record and no hope of a playoff position. Nevertheless, news of the young left-hander's heroics spread fast and Clark Griffith, owner of the American League's Washington Senators, purchased Brewer's contract and invited him to the capital city for the final weeks of the 1938 season. Although Washington was a perennial second division team, Brewer got to see major league baseball for the first time and the great Dutch Leonard in action.

When Brewer returned home to Jacksonville in October, he had saved enough money not to have to work and spent much of his time hunting and fishing, and occasionally pitching games for local semi-pro teams. In 1939, he was with the Washington Senators for spring training in Orlando, Florida, but was released to the Charlotte Hornets of the Class B Piedmont League in March. After pitching just three games and suffering two defeats, manager Cal Griffith felt the 20-year-old was not ready for Class B ball and released him to the Shelby Nationals of the Class D Tar Heel League. His sophomore year was to be plagued with arm problems, probably because of overuse the previous season. Five wins in 19 appearances with Shelby and an inflated ERA of 5.25 triggered a return to the Florida State League in July. Toiling for the Orlando Senators—against whom he threw his no-hitter the previous year—Brewer recorded seven wins with 11 losses and a 3.85 ERA.

In 1940, Brewer was back with the Charlotte Hornets, and as Hitler's blitzkrieg swept through Europe at an alarming rate, he turned in a steady performance, quickly becoming a fan favorite at Hayman Park. On a team that lacked offense and finished fifth, he won 11 games against nine losses. On May 11, he defeated the Durham Bulls, 2–1. On July 9, he defeated the Norfolk Tars, 4–2, on five hits, and on July 20, he beat the Rocky Mount Red Sox, 3–2, holding them to four hits. In August, the Hornets made a run for fourth place and a position in the playoffs. Brewer responded by pitching his best game of the year on August 25, defeating Norfolk, 1–0, and allowing just two hits. While Charlotte failed to make the playoffs, Brewer's pitching again caught the eye of Clark Griffith who invited him back to Washington for the end of the season.

Following President Roosevelt's signing of the Selective Training and Service Act in September 1940, the Charlotte Observer announced that 10 Hornet players were eligible for the first wave of conscription, including Brewer. On March 4, 1941 — one week before reporting to the Senators' spring training camp — he entered military service with the Army at Camp Blanding, Florida. At the age of 22, and on the verge of a major league career (he was carried on the Washington Senators' National Defense Service List), he swapped flannels for service fatigues and reported for basic training. Brewer remained at Camp Blanding with the 31st "Dixie" Infantry Division until volunteering to serve with the paratroopers in January 1942. He was enticed, perhaps, by their elitism, but certainly by the extra $50 a month hazardous-duty bonus.

Brewer attended Parachute Jump School at Fort Benning, Georgia, and after twoweeks of preliminary training, the first jumps were made from 35-foot towers by dropping down on a pulley into a pit of sawdust. Once that technique was mastered, they moved on to the 250-foot towers, where they were attached to a static line and would drop by parachute. The next step was to jump from an airplane and after five jumps Brewer earned the coveted silver wings of a paratrooper. Brewer remained at Fort Benning throughout the summer months and regularly pitched for the baseball team that was defeated only twice all season, both times by Camp Wheeler. On one occasion it was former Senators shortstop Cecil Travis who broke up the game for Camp Wheeler, hitting a double off Brewer with the bases loaded. "He told me after the game," Brewer later explained, "that I shoulda known better than try and sneak an outside curve past him like that. But I told him that he was the first left-handed hitter that I couldn't get on that pitch."