Lt Victor Ramirez 340th Bomb Group, 488thBS, B-25 Pilot
1945 — Cosica, France
Victor M Ramirez was born 9 Nov. 1922 in Texas. In 2011 he is living in California where his son Michael and daughter also live.
Lt Victor Ramirez was a B-25 Pilot in WWII, he flew Combat Missions in the B-25 Mitchell Medium Bomber. Victor and his ship and crew were Shot-Down in the Adriatic Sea (Italy) 30 March, 1945. He was a POW at the Stalag Luft VII. Victor has a Caterpillar Cerificate Award for landing in the Adriatic Sea.
340thBG,488thBS, Lt victor M Ramirez # 0 & 764787. Shot down in "Battlin' Betty" #43-27708 on 30 March, 1945 There are about 12 pages to the MACR
# 0-764787 is Victor's "Officer" # and # 19129455 is his Army Serial Number.
Stalag VII-A
Moosburg, Bavaria
(Enlisted Men & Air Force Officer Evacuees)
Location: In Bavaria, 1 km north of Moosburg, 35 km northeast of Munich, in a flat area surrounded by hills. Opened: In September 1939 POW Strength: Was the camp for USAAF NCOs until 13 October 1943 when all 1,900 were transferred to Stalag 17B. As Germany collapsed in the spring of 1945, it became the final gathering place for 7,948 officers and 6,944 enlisted men moved in from other POW camps.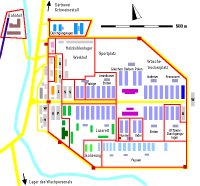 Camp Description: Camp was a square divided into three main compounds which were subdivided into small stockades. Seven guard towers and a double barbed wire fence formed the camp's perimeter.
[map courtesy of Moosburg Online: Stalag VII A (http://www.stalag.moosburg.org).]
Nordlager Compound - Held newly arrived POWs for two days while they were searched, medically examined and deloused.
Suedlager Compound - Held only Russians
Hauptlager Compound - Held POWs of other nationalities - French, Polish, Jugoslav (Serbs), British and some Americans.
Barracks were rectangular wood building divided into A & B sections by a central room used for washing and eating. POWs slept on triple-deck wooden bunks with gunny sack mattresses filed with excelsior. Gradually the number of men per barracks increased from 180 to 400. Men slept on tables, floors and on the ground. The barracks had no heat and were damp, cold and unhealthful.
Man of Confidence (MOC): S/Sgt Kenneth J. Kurtenbach, 360thBS/303rd BG(H) Tail Gunner, shot down on 12 December 1942 on 303rd BG(H) mission #6 to Rouen, France, became the MOC (Enlisted Man Camp Leader) at Stalag 7A and later at Stalag 17B. He performed invaluable counseling to newly arrived POWs, helped in escape plans and forwarded serious complaints to the German Commanders. He was awarded the Legion of Merit Medal after his liberation. Barbi Ennis Connolly, 57th Bomb Wing Historical Researcher (and Historian to her Dad/T/Sgt Edward C Ennis' 321st Bomb Group) in the 57th Bomb Wing, 12th Air Force in WWII. PRINCESSBARBI_B25@msn.com