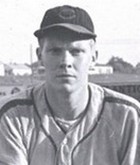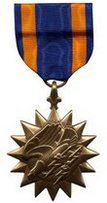 Date and Place of Birth: December 13, 1916 Crafton, PA Date and Place of Death: January 16, 1944 British Guyana, South America Baseball Experience: Minor League Position: Catcher Rank: First Lieutenant Military Unit: 9th Ferrying Squadron, 6th Ferrying Group, Air Transport Command USAAF Area Served:United States, Pacific and South America
Walter G. Loos, Jr., was born in Crafton, a neighborhood located west of downtown Pittsburgh, on December 13, 1916. Known as "Gus" or "Whitey", Loos was the eldest of four sons born to Walter, Sr., (a law firm office manager) and Margaret Loos.

Loos attended Crafton High School where he and his brother, John (known as "Jock"), lettered in baseball, football and basketball.

Between 1936 and 1938, Loos and Jock spent the summer months playing baseball with the Methodists in the Crafton Church League and Crafton Heights in the Pittsburgh City League. Once a year, the Pittsburgh-based Homestead Grays – Negro National League Eastern Division champions in 1937 and 1938 - would come to Crafton Athletic Field for an exhibition game against the Crafton Church League "All Stars". On one occasion, while Jock was pitching and Gus was catching, the mighty Josh Gibson hit the longest home run ever seen at Athletic Field. It not only cleared the left field fence (330 feet), but also the parking lot (150 feet) and a twelve foot high fence before landing in Steuben Street - a distance of more than 500 feet. These games were a wonderful time for all. The Grays – with a line-up that included future Hall of Famer Buck Leonard - relied on entertaining these local crowds as a way to help boost their poor Negro league salaries and they really knew how to put on a show. The Grays pitcher would throw a mixture of side arm and underhand, as well as throwing both left and right-handed. And a typical routine was for a ground ball to the third baseman to be relayed to the centerfielder who would still get the runner at first base by several steps. When the pitcher would walk a batter, the Gray's "team doctor" would visit the mound in his medical smock and administer a liquid remedy.

After graduating from Crafton High School in 1935, Loos won an athletic and academic scholarship to Carnegie Institute of Technology (now Carnegie Mellon University) in Pittsburgh. He played football (end), basketball (center), baseball (catcher) and also ran the 440 yard dash on the track team.

In the 1930s Carnegie Tech was among the top football programs in the country and in his senior year, 1939, Loos was on the squad that played in the Sugar Bowl held at Tulane University's stadium in New Orleans on January 2, 1939. The Carnegie Tech Tartans (ranked #6) played the Texas Christian University Frogs (ranked #1) and were defeated 15 to 7 before a crowd of 44,308.

Loos also played outstanding basketball with the Tartans his senior year. The highlight of his season probably came on January 17, 1939, against the Penn State Nittany Lions. With four minutes to play the Lions went ahead 31 to 30. Loos then stole the ball, sank a basket after dribbling half the length of the floor and made good a foul shot to help the Tartans win 35 to 33. Loos earned Eastern Intercollegiate Basketeball Conference Honorable Mention for the season.

But it was in baseball that the professional teams were most interested, and after three-and-a-half years at Carnegie Tech, Loos accepted an offer to join the Brooklyn Dodgers' organization in the spring of 1939. Brooklyn sent the 22-year-old to the Gloversville-Johnstown Glovers of the Class C Canadian-American League. Making his debut on May 30 at Amsterdam's Mohawk Mill Park before the second largest crowd to see a Can-Am game, Loos was used as a pinch hitter in the first game of a double header, cracked a double and scored his team's only run in a 5-1 loss. In the second game he was behind the plate for the Glovers going 2-for-4 with a stolen base. "Loos looked good behind the bat," reported the Gloversville and Johnstown Leader-Republican the following day, "and showed signs of having a strong arm and an accurate peg."

Unfortunately, Loos' time with the Glovers didn't work out, as explained by the Leader-Republican upon his release on June 22. "Loos' departure will be regretted by many for he is a fine fellow, tried hard but wasn't just what the club wanted. Loos had hard luck, too, for he came in as a catcher. He caught just one game as relief to [Mike] Diffley and then Bill Dick and Hal Palmer came along. Loos did not have the experience to compete with either of these boys and manager [Elmer] Yoter tried him at shortstop.

"He was a combination of good and bad, but mostly the latter because he could not bend over for the low ones and hard hoppers and at times his arm, while strong, was inaccurate and he made many errors. To the credit of the big boy, he tried like nobody's business but did not improve.

"Loos might have remained here a while longer . . . but Bill Buckley, manager of Batavia in the [Class D] PONY League, wanted a catcher and wrote asking for Loos."

In 21 games with the Glovers – mostly as a shortstop - Loos batted .243. However, he showed what he could do as a catcher for Batavia. In 66 games he batted .271 for the Clippers and drove in 21 runs. As their first string catcher, he was behind the plate for 62 games and handled 439 chances, committing 15 errors for a .966 fielding percentage, while handling a pitching staff that included future major leaguers Dick Fowler, Joe Cleary and Frank Colman.

Still with Batavia in 1940, Loos batted .290 with 49 RBIs in 76 games, and was sold in August to the Cincinnati Reds together with Stanley Baran for $1,000. Loos briefly returned home to Crafton following the sale and was joined by a hoard of Crafton Church Leaguers at Penn Station to wish him well on his journey to Durham, North Carolina, where he was to report to the Bulls of the Class B Piedmont League. "I've watched a lot of 'em come and go," Phil Weaver of the Church League told the Pittsburgh Press. "But Loos is one of the few who has the stuff to go up [to the major leagues].