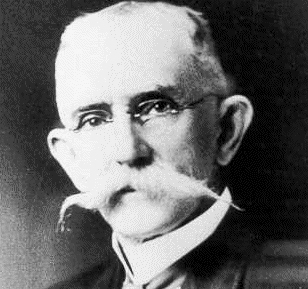 On Feb. 19, 1867, the American gunboat Swatara returned to the Washington Navy Yard after a months-long trip to the Middle East. Out stepped a young man in a bizarre, filthy uniform and shackles.
His name was John Harrison Surratt, and he was the most wanted man in the entire world.
Two years earlier, Surratt had been a Confederate spy. The Maryland native had conspired with John Wilkes Booth and others to kidnap President Abraham Lincoln in a desperate bid to reverse the tide of the Civil War. But the plot had failed, and on April 14, 1865, Booth instead fatally shot Lincoln inside Ford's Theatre.
Newspapers across the country featured photos of Booth and Surratt under the headline "Assassins!"
Booth was hunted down and killed in a burning barn in Virginia. Eight of his alleged co-conspirators — including Surratt's mother, Mary — were arrested, quickly tried by a military commission and found guilty.
But John Surratt was nowhere to be found.
For nearly two years, he lived in hiding, wore disguises and watched as his mother and friends were hanged. Surratt traveled to half a dozen countries on three continents, and even joined the pope's personal army.
Time and again, he eluded authorities. Once, he escaped from prison by leaping off a ledge into a pile of human excrement.
Surratt's remarkable tale is a footnote in the sweeping history of the Civil War, often overshadowed by Booth's infamous act.
One hundred and fifty years ago, however, Surratt's trial threatened to expose ties between the Confederacy and Lincoln's assassination. Instead, it showed that the newly reunited country was ready to move on.
A Confederate spy
Surratt was born in 1844 and raised in the small Maryland town in Prince George's County that bore his family's name: Surrattsville, now known as Clinton. His father was the postmaster and also owned the local tavern where, hours after Lincoln's assassination, Booth would stop for weapons and supplies.
The Surratt family were devoutly Catholic slave owners. His older brother fought for the Confederate Army in Texas, his sister was a "furious secessionist" and his mother was "devoted, body and soul, to the cause of the South," according to Surratt's onetime friend and co-conspirator Louis Weichmann.
Surratt took over as postmaster after his father died in 1862. He used the position as cover to transmit messages — often regarding Union troop movements — between Confederate operatives up and down the East Coast.
"I devised various ways to carry the dispatches — sometimes in the heel of my boots, sometimes between the planks of the buggy," Surratt later said. "I confess that never in my life did I come across a more stupid set of detectives than those generally employed by the U.S. government."
Eventually the government caught on, and Surratt was fired. But he continued working as a Confederate courier. And when his family moved in 1864 to a boardinghouse it owned in Washington — now a restaurant and karaoke bar in Chinatown — Surratt soon met Booth, Samuel Mudd and other conspirators.
The South was losing the Civil War.
But Booth had a bold plan: kidnap Lincoln, trade him for thousands of Confederate prisoners and turn the tide of the conflict.
Although barely 20 years old, Surratt was eager to help. In early 1865, he bought a boat from a Prince George's County farmer to ferry the presidential prisoner to the South.
"If the Yankees knew what I'm up to, they would stretch this neck of mine," Surratt said, the farmer testified later.
The kidnapping never happened, however. Once, Booth, Surratt and others went so far as to hide on the side of the road, ready to ambush Lincoln on his way to a play.
"It was our intention to seize the carriage, which was drawn by a splendid pair of horses, and to have one of our men mount the box and drive direct for southern Maryland via Benning's Bridge," Surratt recalled. "By the time the alarm could have been given and horses saddled, we would have been on our way through southern Maryland toward the Potomac River. To our great disappointment, however, the President was not there."
Several weeks later, Lincoln did attend a performance at Ford's Theatre, where Booth shot him in the head from behind before shouting "Sic semper tyrannis," and leaping from the box to the stage.
Booth and an accomplice fled on horseback to the tavern in Surrattsville, where they collected rifles and binoculars left earlier that day by Mary Surratt. Booth then received medical attention from Mudd, a doctor, before crossing the Potomac River into Virginia where, 12 days later, he was tracked down and killed.
The same night Lincoln was shot, Secretary of State William H. Seward was seriously injured by a man wielding a knife.
Initial reports identified the attacker as John Surratt.
"From the evidence obtained it is rendered highly probably that the man who stabbed Mr. Seward and his sons is John Surratt, of Prince George County, Maryland," read the front page of the New York Times on April 16, 1865, alongside a minute-by-minute account of Lincoln's last breaths. The paper said Booth and Surratt had escaped together into Maryland after the attacks.
A wanted poster offered $25,000 for information leading to Surratt's arrest.
Where Surratt was at the time of the attacks would be a topic of intense debate during his trial two years later. What did become clear was that Surratt was neither Seward's attacker nor Booth's companion on his escape from Washington.
Witnesses would later testify that they had seen Surratt at Ford's Theatre the night of the assassination. But Surratt said he was 300 miles away in Elmira, N.Y., on a secret mission to surveil a prison where Confederate soldiers were being kept.
He learned the news at breakfast, he said later. "When I took my seat at the table around 9 o'clock a.m., a gentleman to my left remarked: 'Have you heard the news?' 'No, I've not,' I replied. 'What is it?' 'Why President Lincoln and Secretary Seward have been assassinated.'"
When Surratt suggested he was joking, the man handed him the newspaper, which did not name the assassins.
Fearing arrest, he made his way to Montreal, then a hotbed of Confederate activity. Along the way, he picked up another newspaper. This time, his name was on the front page.
Twenty months on the run
Surratt spent about a week in Montreal, hiding out in his hotel room as American detectives scoured the city. He then escaped into the countryside, holing up in a priest's house in the village of St. Liboire.
He spent the next three months living behind a partition in the priest's cabin. It was there that he learned his mother, Mudd, David Herold, Lewis Powell and four others had been arrested and accused of plotting Lincoln's assassination. On May 1, 1865, President Andrew Johnson ordered that they face a military — not civil — tribunal.
Surratt was vilified for not coming to his mother's defense.
Even his fellow conspirators criticized him. On July 6, a reporter from the New York Times visited the prison where the condemned were being kept.
Powell "says John Surratt is acting cowardly, most villainously, in failing to appear and die with his mother," the paper reported. The article ended with a description of the gallows being built outside their cells.
After President Johnson ignored an appeal for clemency for Mary Surratt from five of the nine jurors, she was hanged.
"I had nothing now to bind me to this country" after the execution, John Surratt recalled. "For myself, it mattered little where I went, so that I could roam once more a free man."
A priest in Montreal helped him enlist in the Papal Zouaves, an army of Catholics from around the world waging an ill-fated war to keep the Papal States from being annexed by Italy. Meanwhile, the American government was still looking for him. In fact, it thought it had arrested him more than once.
On July 22, 1865, nearly two months after the war's end, a Confederate soldier named J.G. Ryan was arrested in a Memphis hotel and accused of being Surratt. He spent more than three months behind bars before authorities realized their mistake.
"They looked enough alike to be twin brothers," the Chicago Tribune reported. In the 10 days following Ryan's arrest, at least two other men were confused for Surratt, arrested, and taken to Washington.
Despite the false leads, authorities were closing in on the real John Surratt in Montreal.
"It is believed here by many, that the secession sympathizers who were highly offended with the execution of his mother, are harboring him," the New York Times reported on Aug. 8. "Several Canadian detectives are on the alert for him, in hopes of securing the reward offered."
On Sept. 15, Surratt left Montreal disguised as a bespectacled Irishman, his long, blond hair cut short and dyed dark brown. The following day, he boarded a boat bound for Liverpool, England. Eight days later, the coast of Northern Ireland came into view.
"Here is a foreign land at last," Surratt said, according to the ship's surgeon, in whom he confided. "Then, I hope I shall be able to return to my country in two years."
"I hope to God," he was quoted as saying as he pulled out a revolver, "I shall live to see the time when I can serve Andrew Johnson as Abraham Lincoln has been served."
In Liverpool, the surgeon notified American authorities that Surratt had been aboard his ship. But Surratt traveled to London, then Paris, where he visited Versailles and may have even picked up a pet bloodhound that he took with him to Rome, according to Michael Schein's "John Surratt: The Lincoln Assassin Who Got Away."
In Rome, Surratt — now Giovanni Watson — donned the red fez, baggy pants and bright red accented uniform of the Papal Zouaves, the pope's army.
Even in Italy, however, Surratt was not safe. And in April on 1866, a year after Lincoln's assassination, he was tracked down by Henri Beaumont de Sainte Marie, whom he had met back in Maryland years before. Sainte Marie had also enlisted in the Zouaves, but only to find Surratt and collect the reward.
Like the ship surgeon, Sainte Marie contacted American officials, but seven months passed without them taking action. Finally, on Nov. 6, 1866, papal authorities took the initiative and ordered that Surratt be arrested.
Surratt had intercepted a letter about his imminent arrest, however, and fled. He was caught a day later in the mountaintop town of Veroli and thrown into a prison cell. The next morning, six armed guards waited to escort him to Rome. But then they made the mistake of allowing him to use the bathroom.
Suddenly, Surratt vaulted over the edge of the parapet.
"It seemed quite impossible to us to clear," recalled one soldier. "This perilous leap … might have broken his bones a thousand times, and gain[ed] the depths of the valley."
Instead his fall was broken by a pile of human excrement.
Word of Surratt's escape soon reached the United States, where penny dreadfuls on his exploits pictured him leaping from the parapet.
Surratt managed to make his way to Naples, then talk his way onto a boat bound for Alexandria, Egypt.
It was on this voyage that the fugitive's luck finally ran out, however. Because his ship stopped in Malta, where there was a cholera outbreak, its passengers were kept in quarantine after arriving in Egypt. That gave authorities enough time to catch up to Surratt.
"You are the man I want," U.S. consul-general Charles Hale told him.
"Yes sir, I am," replied Surratt, still in his Zouaves uniform.
The trial
It was the trial of the century: a presidential assassin who had led authorities on a global manhunt for nearly two years. Some even speculated that Surratt, 23, was the key to tying Confederate leaders to Lincoln's killing.
The goal of prosecution was to "obtain from him disclosures and facts implicating Jeff Davis in the assassination, which it is confidently believed the abject coward would readily give to save his own life," the New York Herald wrote on June 6, 1867.
When the trial began four days later, the courtroom was packed with politicians, priests, Surratt's admirers and former slaves devastated by Lincoln's death. Even one of the men wrongly accused of being Surratt was in attendance.
"With his sandy mustache and goatee, and his long hair combed behind his ears," the New York Times observed, Surratt "looks far more like an inoffensive student than like the chief of an assassination plot."
After the outrage over his mother's execution, Surratt was given a civil, not military, trial.
Over the course of two months, more than 300 witnesses testified, including some who swore Surratt was in New York at the time of the assassination, and others who placed him at Ford's Theatre. Surratt's attorneys argued that although he had plotted to kidnap Lincoln, he knew nothing of the murder plot. Prosecutors said he was part of the conspiracy, and responsible for its grisly outcome. Closing arguments alone lasted eight days.
The public gradually lost interest, and the trial ended with the whimper of a hung jury.
In the two years Surratt had been on the lam, it seemed the country had lost its zeal for rehashing the Civil War.
Surratt spent another ten months in jail as prosecutors prepared to try him again. But then a judge threw out the second indictment because it hadn't been filed within two years of the crime. Surratt was free on a technicality.
He disappeared to South America for seven months. When he returned, he found a job teaching at a public school in Rockville, Md. In December 1870, he embarked on a speaking tour. For 50 cents, a poster promised, attendees could hear him open up about his "thrilling adventures during the rebellion," "life among the Papal Zouaves," and — disingenuously — his "honorable acquittal."
In his first speech in Rockville, Surratt boasted of being a Confederate spy and plotting to kidnap Lincoln but denied knowing Booth planned to kill the president. When Surratt finished, the band played "Dixie."
A second speech in New York drew a smaller crowd, however, and was met by angry editorials. After a third speech in Baltimore on Dec. 29, Surratt was arrested for "not having paid his license as a tobacco-dealer" two years earlier the Times reported.  The arrest may have been an attempt at keeping Surratt from speaking the following day in D.C. — where he had tried to book, of all places, Ford's Theatre.
The fourth lecture never happened, and Surratt retreated to private life. He married, had seven kids and became an auditor for a steamship company.
On April 21, 1916 — about a year after the 50th anniversary of the assassination — Surratt died at the age of 72. The country was now on the verge of another epic war, and so the obituary of the last Lincoln conspirator was buried on page 11 of the New York Times.
"Mr. Surratt's flight from this country and his subsequent capture and trial," it said, "was one of the most thrilling incidents of the years following the Civil War."