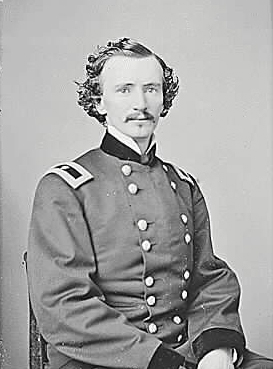 Joseph Jackson Bartlett was born at Binghamton, New York, November 21, 1834. He studied law in Utica and was admitted to state bar in 1858, and was practicing law, first in Binghamton, and then in Elmira at the outbreak of the Civil War.
Upon the first call for troops, he enlisted at Elmira May 21, 1861, and was elected to Captain of one of the companies organized into the 27th New York Volunteer Infantry. When the regiment chose its field officers, Henry W. Slocum (later a Corps and Army Commander) was elected Colonel and Bartlett, Major.
The 27th New York received only a few weeks of training before it was sent onto the field at the First Battle of Bull Run. Bartlett was a calm presence on the battlefield, and composure in crisis became his trademark. When Col. Henry W. Slocum was wounded, Bartlett became commander of the regiment. He began moving his unit from the field in an organized fashion; instead of attacking the enemy position, as he had been ordered. While retreating, Bartlett's troops helped keep the Confederates at bay, which brought him to the attention of Maj. Gen. Irvin McDowell and earned Bartlett a promotion to colonel.
As part of the Army of the Potomac, Bartlett fought in almost every battle (he is believed to have taken part in every battle fought by Army of Potomac from Manassas to Appomattox, except for the campaign of Second Manassas where VI Corps was not engaged), including Gaines' Mill, Crampton's Gap and the Antietam Campaign. On October 4, 1862, he was commissioned a brigadier general. In 1863, he led troops effectively at Fredericksburg, and on May 3, 1863 at Salem Heights, where out of a force of 1500 men he lost 580 officers and men, maintaining order despite huge losses. He was present at the surrender of General Lee, and was chosen to receive the ceremonial surrender of the stacked arms of Gen. Robert E. Lee's Army of Northern Virginia at Appomattox Court House. For his service throughout the war, Bartlett was brevetted Major General. He was mustered out on Jan.15, 1866.
After the war, he was appointed by President Andrew Johnson to serve as US minister to Sweden and Norway from 1867 to 1869. Under President Grover Cleveland, he was Deputy Commissioner of Pensions from 1885 to 1889. He then returned to his law career. Bartlett died on January 14, 1893, in Baltimore, Maryland, and was buried in Arlington National Cemetery (Section 2, Grave 1046).
General Bartlett's father, Joseph Bartlett, and uncle, Robert Bartlett, manufactured rifles 'of the Daniel Boone type' in Binghamton for many years. They went out of business around 1850 and they then purchased a farm in Port Dickinson where Joseph, and his father, Issac, lived the rest of their lives. It is not known if General Bartlett ever lived in Port Dickinson as a youth.
One of General Bartlett's brothers, Louis Chester Bartlett, also enlisted in the 27th New York Volunteer Infantry. He was promoted to Major and at least for a time, was an aid to his brother, the general. Major Bartlett returned to and spent the rest of his life in Port Dickinson where he died in 1888.
The GAR, Bartlett Post No. 668 in Binghamton was chartered on Feb. 16, 1893 and changed to Bartlett Post No. 108 on Feb. 20, 1893.