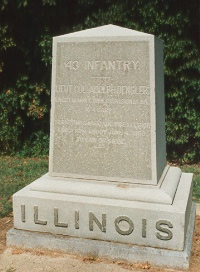 Col. Julius Raith commanded a brigade of Major General John A. McClernand's division of the Union Army of the Tennessee. The actual commanding officer was Col. Leonard F. Ross, but Ross was absent from the brigade, leaving Col. James S. Reardon in charge. Reardon was ill, so Raith assumed command of the brigade.
During the Confederate assault on the division of Brigadier General William T. Sherman, Raith's brigade was moved south of Review Field in support. Soon after arriving at the location, Raith realized that this was a poor defensive position. He moved the brigade several hundred yards west and north to higher ground in the vicinity of Water Oaks Pond.
Raith was too distant to give adequate support to Sherman's men as his line near Shiloh Churchcollapsed. Instead of moving forward to aid the outflanked brigade of Col. Jesse Hildebrand, he stayed in place. Sherman's line disintegrated, but Raith was right in the path of the jubilant Confederates as they ran forward in triumph. Raith's brigade became the center of the defensive line at Water Oaks Pond. He was to the west of the pond with the remnants of Sherman's division on his right. East of the pond were the brigades of Col. Abraham M. Hare and Col. C. Carroll Marsh, also of McClernand's division. They were supported by the cannons of McAllister's Battery.
The fighting around the pond was severe and Raith's brigade wavered several times. He was personally holding the line of the 43rd Illinois regiment in position when he fell to the ground with a bad wound. A minié ball hit him in the thigh, breaking his femur and exposing the bone. His troops tried to carry him from the field, but — in terrible agony — he ordered his men to leave him behind the battle line and return to the regiment. They placed him beneath a tree, where he sat for more than 24 hours.
Eventually the line around Water Oaks Pond collapsed, and Raith fell behind Confederate lines. Confederate soldiers rifled through his pockets, but otherwise left him alone. He was found the next evening when Union troops once again recovered the camp area. His wounded leg was caked in blood. Troops carried him to Pittsburg Landing where he was put on board the steamer_Hannibal_. His leg was amputated above the knee. Due to shock, blood loss, and delay in treatment, Raith's condition continued to worsen. He died on Friday, April 11, 1862.