Bud Wilkinson, 77, Who Guided Oklahoma Championship Teams
Bud Wilkinson, the football coach whose University of Oklahoma teams won three national championships in the 1950's and a record 47 consecutive games during a five-season span, died on Wednesday at his home in St. Louis. He was 77.
Mr. Wilkinson died of congestive heart failure after recent surgery to repair a heart defect. He had suffered a series of strokes; the last one, in November, destroyed much of his vision.
A member of the College Football Hall of Fame, Charles (Bud) Wilkinson coached Sooner teams that were ranked first in the nation after the 1950, 1955 and 1956 seasons. From the third game of the 1953 season through the seventh game of the 1957 season, his teams won every game, a National Collegiate Athletic Association record of 47 that still stands. The streak ended with a 7-0 loss to Notre Dame. A Bid for the Senate
He began coaching at Oklahoma in 1947 and when he retired in 1963, 36 of his players had been named all-Americans and his teams had compiled a record of 145-29-4, a winning percentage of .826, including a 6-2 mark in bowl games. In an 11-year stretch from 1948 to 1958, Wilkinson's Sooners were 107-8-2 (.923).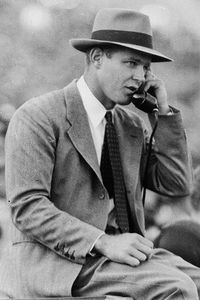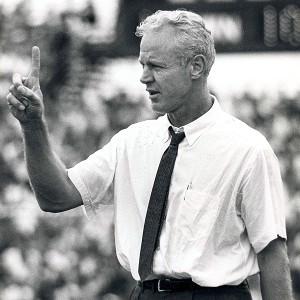 After he retired, he attempted to use his considerable fame in Oklahoma politics. He ran for the United States Senate on the Republican ticket in 1964, legally changing his first name to the more recognizable Bud, the nickname he preferred. But Fred Harris, a Democrat, defeated him by about 20,000 votes.
He then left Oklahoma, rarely to return to the state, and took up duties in Washington as the first director of the President's Council on Physical Fitness, which had been created by President John F. Kennedy in 1961.
Wilkinson surprised his friends by returning to coaching at age 61 in 1978 with the St. Louis Cardinals of the National Football League. He resigned with a 9-20 record before finishing his second season and went into broadcasting as a college football analyst for the ABC network. St. Louis became his home base. Early Championships
He was born in Minneapolis and his first association with championship teams came at the University of Minnesota in 1934 and 1935. He played guard and then quarterback for Coach Bernie Bierman's undefeated Gophers, who won two Big Ten titles and were widely recognized as the best team in the nation both years.
When the College All-Stars gained their first victory over the defending N.F.L. champion Green Bay Packers in The Chicago Tribune's annual charity event in the summer of 1937, Wilkinson was the All-Star quarterback.
He had graduated from Minnesota with a degree in English and had won the Big Ten medal given to the senior most outstanding in scholarship and athletics.
Wilkinson briefly joined his father's banking business, but soon turned to coaching as an assistant at Syracuse, where he earned a master's degree. He also served as an assistant at Minnesota and during World War II with the Iowa Pre-Flight team.
During World War II, he served as a hangar deck officer on the aircraft carrier Enterprise in the Pacific for almost two years. Head Coach at 31
After another shot at banking, Wilkinson was persuaded to go to Oklahoma as an assistant coach by Jim Tatum, the head coach, in 1946. After one season Tatum left for Maryland and the university president, Dr. George L. Cross, made Wilkinson, at 31 years old, the coach and athletic director.
He attained instant success, and from 1948-50 his teams won 31 straight games. He did not have a losing season until 1960.