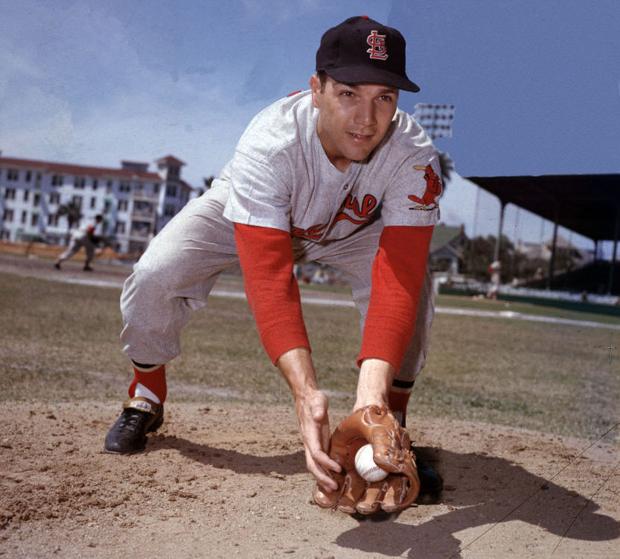 Ken Boyer, a star third baseman with the St. Louis Cardinals and later their
manager, died today of lung cancer. He was 51 years old.
He died at a nursing home at which he had spent the last several months
after undergoing laetrile treatments in Mexico.
He played for 15 years in the major leagues, compiling a .287 batting
average, and was named to the National League All-Star Team seven times.
He also won five Gold Glove awards for his fielding ability.
After 11 years with the Cardinals, he joined the New York Mets in 1966 and
played a little more than one season with them before finishing his career
with the Chicago White Sox and the Los Angeles Dodgers.
Boyer batted over .300 in five seasons, had 282 career home runs and 2,143
hits.
Excelled in 1964 World Series
The highlight of Boyer's career came against the New York Yankees in the
1964 World Series. He hit a grand slam in the fourth game, off Al Downing,
to give St. Louis a 4-3 victory. In the deciding seventh game, he had three
hits, including a double and a homer, and scored three runs as the Cardinals
won, 7-5.
His brother Clete, who played third base for the Yankees in that Series,
recalled last spring, ''When he hit that homer, I loved it. In my heart, I
think I was pulling for him that year because it was his first Series.''
Boyer won the National League's Most Valuable Player award for that season.
He led the National League that year in runs batted in with 119, hit 24
homers and batted .295.
Boyer managed for seven years in the minor leagues before he returned to the
Cardinals as manager 18 games into the 1978 season. The team finished in
fifth place in the National League East that year. He guided the Cardinals
to a third-place finish the following season. Boyer was dismissed during the
1980 season with the Cardinals in last place.
Boyer was scheduled to manage the Cardinals' Triple A farm team in
Louisville, Ky., this season, but his illness forced him to give up the job.
A Baseball Family
Boyer was one of three brothers to play major league baseball. In addition
to Clete, who is now a coach with the Oakland A's, his brother Cloyd pitched
for the Cardinals and Kansas City Athletics. Three other brothers also
played professional baseball.
He is survived by two sons and two daughters in addition to his brothers and
six sisters.
Funeral services are scheduled for Thursday in Ballwin, Mo.
P