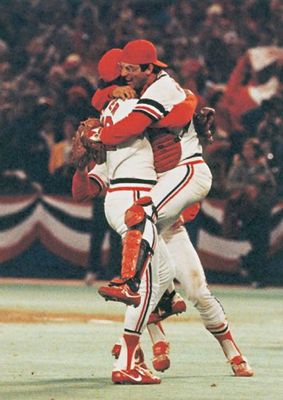 KANSAS CITY, Mo. — The odd circumstances surrounding the death of former major-league catcher Darrell Porter offer one final twist in a complex life in which he achieved personal redemption from years of heavy substance abuse.
Porter, 50, was found dead next to his car at 5:26 p.m. Monday at La Benite Park along the Missouri River. An autopsy Tuesday failed to determine the cause of death.
Authorities hoped to learn more from a toxicology report but said no evidence was found at the scene to suggest foul play or involvement with drug or alcohol use. The front end of Porter's car was snagged on a tree stump, which prompted police to speculate Porter had succumbed to the heat while trying to free it.
"I just want Kansas City to know that Darrell was a man full of love and integrity," said Bill Stutz, a longtime friend and business partner. "He came through a lot of obstacles because of his faith."
Porter created a national sensation in 1980 by becoming one of the first high-profile athletes to acknowledge his addiction to drugs and alcohol. His 1984 book, "Snap Me Perfect," offered a harrowing portrait of a man driven to the edge.
"My right hand was throbbing," he wrote. "The knuckles were bruised and bleeding. Staggering to my feet, I looked around and saw the mirror was splattered with blood.
"Bloody paper towels were thrown everywhere. [A friend] opened another toilet door and found a guy about my age sprawled half-unconscious on the toilet seat holding a blood-soaked paper towel against his mouth. He looked terrified.
"I drove back to Kansas City, worrying all the way about the guy in the men's room. `Who was that guy, anyway? Why did I hit him?' "
An all-state quarterback in his native Oklahoma, Porter was a first-round pick by the Milwaukee Brewers in 1970. Despite his fast track into substance abuse, he reached the majors barely over a year later because of a cannon-like throwing arm that erased would-be basestealers.
By 1973, Porter was in the majors for good. He was also deep into chemical dependency.
"I guess I was schizoid," he said. "Baseball was one world and partying was another."
A trade on Dec. 6, 1976, brought Porter to the Kansas City Royals. His toughness melded perfectly with a young, aggressive team that would reach the postseason six times over the next nine years.By 1979, he was a legitimate MVP candidate after batting .291 with 20 homers and 112 RBIs. At the time, he was consuming more than a gram of cocaine a day.
Porter could feel his personal demons taking hold. Substance abuse wrecked his first marriage, and his paranoia reached such heights, he once said, that he used to sit in the dark at his house awaiting a personal visit from Commissioner Bowie Kuhn.
The next March, Porter was ready to listen to former Dodgers pitcher Don Newcombe, a reformed alcoholic who made regular trips to spring camps to preach the benefits of a reformed lifestyle.
Porter announced his addiction before teammates and team officials and departed for the Meadows, a therapeutic clinic in Wickenburg, Ariz. He spent six weeks there.
But the reformed Porter just wasn't the same player.
Porter batted just .249 in the regular season and only .125 in the postseason as the Royals, fresh from finally beating the Yankees, lost the World Series to Philadelphia.
He then jilted the Royals to reunite with manager Whitey Herzog in St. Louis for $3.5 million over five years.
The move was not popular in St. Louis because Porter was replacing a longtime fan favorite in catcher Ted Simmons.
Discontent sharpened when Porter failed to regain his 1979 form. By mid-1982, he was a frequent target for fan abuse in St. Louis.
But there was one brief spell when everything fell into place, and it occurred at the best possible time.
After finishing with mediocre numbers in 1982, Porter led the Cardinals to a championship as the MVP for both the NL playoffs and the World Series.
Porter spent three more years with the Cardinals but his production continued to slip.
"I'd been fairly successful the whole time I was doing drugs," Porter observed at one point. "When I stopped doing them, I just struggled. God humbled me. I fear Him and I know He loves me."
He and the Cardinals returned to the World Series in 1985, this time meeting the Royals.
Kansas City won the Series in seven games. Porter had just two hits in 15 at-bats and was released by the Cardinals less than a month later. He signed with Texas, where he spent two disappointing years before retiring.
Porter was ready to spend time at home with wife Deanne and a family that grew to include three children--Lindsey, Ryan and Jeff.
Porter returned to Kansas City, became active in the community, spent time with his family and continued his love of fishing. He lived just a few miles from Kauffman Stadium but seldom made it out to the park.
"Too many Little League games going on," he said, "to get to the big-league games."