Person Page
View Photos
Places mentioned on this page
About this page
Stories
Victor M Ramirez, 9 Nov.1922-18 Feb.2011
2011 | California
Victor; RAMIREZ, Victor M. Sacramento Bee, STORY by Ed Fletcher
In the wake of the attack on Pearl Harbor, Victor Ramirez was adamant he wanted to be a pilot. But Ramirez, not yet 21, had to persuade his father to sign his enlistment papers.
Mr. Ramirez went on to fly three dozen missions in the Mediterranean theater before being shot down over Italy and taken as a prisoner of war in 1945.
Mr. Ramirez died Feb. 18 at age 88 from pneumonia. After retirement, he lived near Foresthill and Roseville.
To those closest to him, details of his exploits and the horrors of war remained shielded for over 60 years by the family's don't ask, don't tell code.
When Mr. Ramirez began talking about the war, his family collected his tales for a website.
The second time a young Mr. Ramirez pleaded with his father to allow him to enlist, he refused to leave until the papers were signed and he threatened to forge his father's name, according to family notes.
By 1943 he was accepted for preflight training, but first he had to bulk up. "Victor ate large quantities of bananas and milk in effort to add the extra pounds needed," wrote his daughter Diane Bingen-McNally.
Mr. Ramirez met his future wife, Mary Olivas, when he was stationed at Mather Field while training to fly the B-25. To impress his soon-to-be mother-in-law he buzzed the main street in Lincoln, Bingen-McNally wrote. ***********************************************************************************************
Passed away peacefully on February 18, 2011. He was preceded in death by Mary, his wife of 61 years; a son Victor Jr.; and a grandson Jason. He was a part of the 'Greatest Generation' and proudly served his country as a B-25 pilot during WW II. Victor became a POW the last few months of the war when his plane was shot down over the Brenner Pass in Italy. His most unforgettable memory of that time was meeting the Pope at the Vatican when he was on leave who graciously blessed two rosaries Victor had purchased for his wife and mother-in-law. Upon returning from the war, he became a computer analyst for the State of California. Because of his passion for flying, he earned his private pilot's license in 1966 and enjoyed many flying vacations with his wife. After his retirement he moved to Todd Valley where he was on the Volunteer Fire Department in Foresthill, CA. His early retirement allowed him and his wife to travel around United States and Mexico. Victor provided his children with a wonderful childhood full of special memories which will be forever cherished. He leaves behind three children, Mary Ellen Dempsey of Lincoln, Diane Bingen-McNally of Sacramento and Michael D. Ramirez of Lincoln; six grandchildren and six great-grandchildren as well as three sisters and many other family members. He will be deeply missed by all. Services will be held at noon on Thursday, February 24 at the Calvary Catholic Cemetery located at 7101 Verner Avenue in Sacramento, CA 95841. Phone 916-726-1232.


Published in The Sacramento Bee on February 23, 2011
24 Feb. 2011 Victor was kind and quietly Heroic, a wonderful family man and loved by all. He was a WWII Hero, having been a Pilot in Combat and Shot-Down in a B-25 over the Adriatic off the Coast of Italy after which he was a POW. While I did not know him personally, I know some of his family and friends from the 57th Bomb Wing He was respected by all. Yes, "ONE of our "Greatest Generation". I am proud to be priviledged to place stories and photo's in the 57th BW. Vic will be greatly missed. God Bless his loving family. Our Prayers are with you, from my family to his family.
Barbi Ennis Connolly, 57th Bomb Wing Historical Researcher.
Lt Victor Ramirez 340th Bomb Group, 488thBS, B-25 Pilot
1945 | Cosica, France
Victor M Ramirez was born 9 Nov. 1922 in Texas. In 2011 he is living in California where his son Michael and daughter also live.
Lt Victor Ramirez was a B-25 Pilot in WWII, he flew Combat Missions in the B-25 Mitchell Medium Bomber. Victor and his ship and crew were Shot-Down in the Adriatic Sea (Italy) 30 March, 1945. He was a POW at the Stalag Luft VII. Victor has a Caterpillar Cerificate Award for landing in the Adriatic Sea.
340thBG,488thBS, Lt victor M Ramirez # 0 & 764787. Shot down in "Battlin' Betty" #43-27708 on 30 March, 1945 There are about 12 pages to the MACR
# 0-764787 is Victor's "Officer" # and # 19129455 is his Army Serial Number.
Stalag VII-A
Moosburg, Bavaria
(Enlisted Men & Air Force Officer Evacuees)
Location: In Bavaria, 1 km north of Moosburg, 35 km northeast of Munich, in a flat area surrounded by hills. Opened: In September 1939 POW Strength: Was the camp for USAAF NCOs until 13 October 1943 when all 1,900 were transferred to Stalag 17B. As Germany collapsed in the spring of 1945, it became the final gathering place for 7,948 officers and 6,944 enlisted men moved in from other POW camps.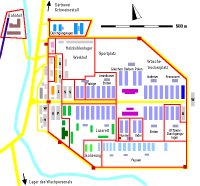 Camp Description: Camp was a square divided into three main compounds which were subdivided into small stockades. Seven guard towers and a double barbed wire fence formed the camp's perimeter.
[map courtesy of Moosburg Online: Stalag VII A (http://www.stalag.moosburg.org).]
Nordlager Compound - Held newly arrived POWs for two days while they were searched, medically examined and deloused.
Suedlager Compound - Held only Russians
Hauptlager Compound - Held POWs of other nationalities - French, Polish, Jugoslav (Serbs), British and some Americans.
Barracks were rectangular wood building divided into A & B sections by a central room used for washing and eating. POWs slept on triple-deck wooden bunks with gunny sack mattresses filed with excelsior. Gradually the number of men per barracks increased from 180 to 400. Men slept on tables, floors and on the ground. The barracks had no heat and were damp, cold and unhealthful.
Man of Confidence (MOC): S/Sgt Kenneth J. Kurtenbach, 360thBS/303rd BG(H) Tail Gunner, shot down on 12 December 1942 on 303rd BG(H) mission #6 to Rouen, France, became the MOC (Enlisted Man Camp Leader) at Stalag 7A and later at Stalag 17B. He performed invaluable counseling to newly arrived POWs, helped in escape plans and forwarded serious complaints to the German Commanders. He was awarded the Legion of Merit Medal after his liberation. Barbi Ennis Connolly, 57th Bomb Wing Historical Researcher (and Historian to her Dad/T/Sgt Edward C Ennis' 321st Bomb Group) in the 57th Bomb Wing, 12th Air Force in WWII. PRINCESSBARBI_B25@msn.com
Comments
---